In ForeFlight, runway headings are described relative to Magnetic North, while wind directions are described relative to True North. When winds are nearly parallel to the runway at an airport with a significant magnetic variation, it might seem like ForeFlight is reporting the crosswind component from the wrong direction.
To verify that the crosswind component seen in ForeFlight is correct, follow these steps:
With the airport displayed on the Airports view, open the Info tab, tap Features, and locate the airport's Magnetic Variation in degrees East (E) or West (W).
Open the Runway tab, select a runway, and scroll down to the Heading section to find that runway's Magnetic heading.

Calculate the

runway's True heading

:

if the variation is °East

, add it to the runway's Magnetic heading.

If the variation is °West, subtract it from the runway's

Magnetic heading.

At the top of the Airport view, find the

True wind direction

and

True wind speed in knots

. If your ForeFlight device reports wind speed in mph, convert that value to knots by dividing by 1.151.
Plug the above values (True wind direction, True wind speed in knots, and runway True heading) into an E6B or other flight computer to calculate the crosswind component.
Compare your result to ForeFlight's reported crosswind direction. You should see that the values match.
EXAMPLE
Pilots at Monterey Regional (KMRY) might expect a right crosswind component listed for runway 28R with winds blowing from 290° at 4 knots. The lack of any crosswind arrow in the Runway entry might seem like an error.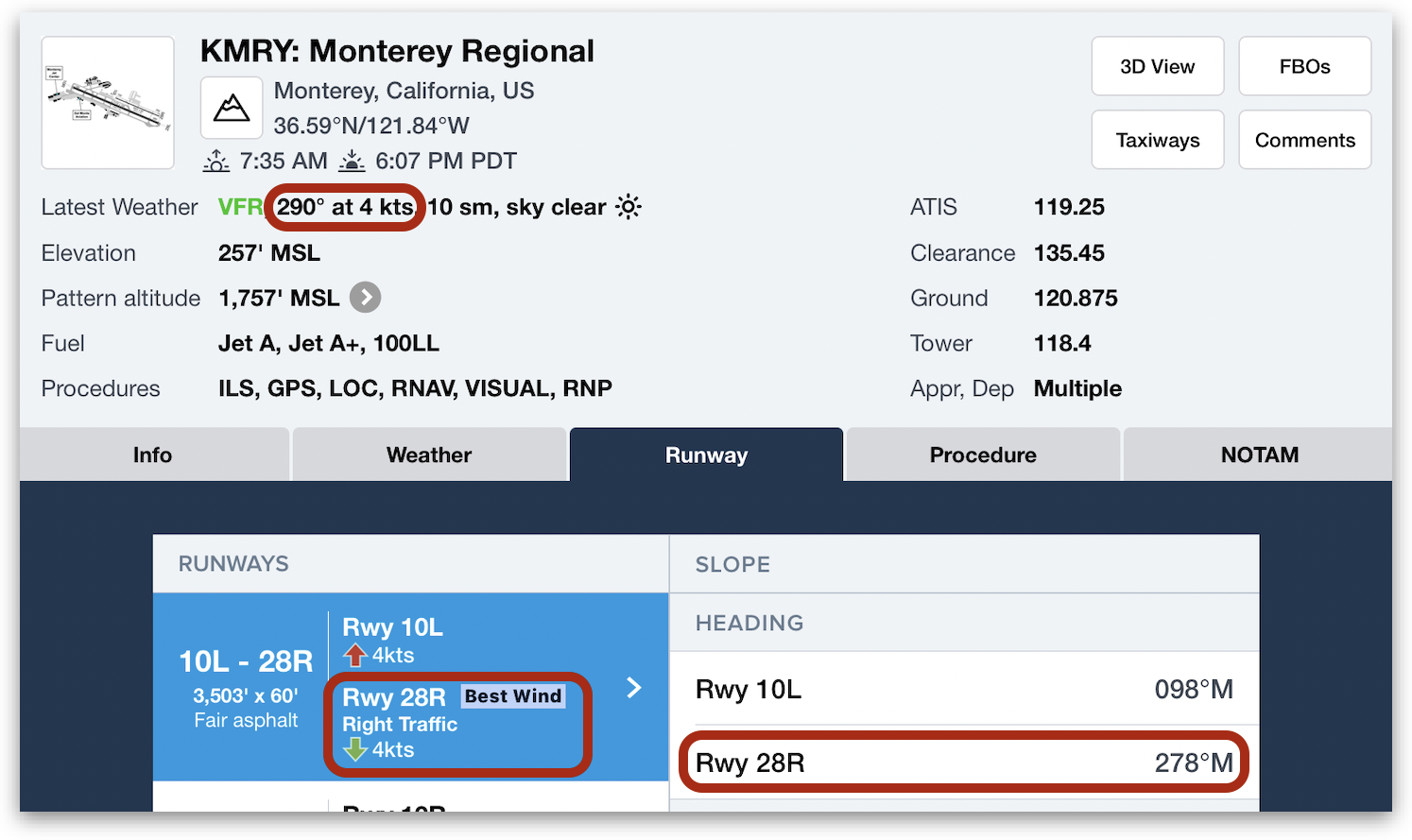 However, you can determine that ForeFlight is correct and there is no crosswind. Here's how:
STEP 1. Find KMRY's Magnetic Variation.
STEP 2. Find runway 28's Magnetic heading.

STEP 3. Calculate runway 28's True heading: (278° + 15° = 293°).
STEP 4. Locate KMRY's reported True wind speed and direction.

STEP 5. Plug the following into a flight computer to calculate the wind component.
True wind direction = 290°
True wind speed = 4 knots
True runway heading = 293°
ForeFlight adds KMRY's magnetic variation (15°E) to runway 28's heading (278° Magnetic) to determine that it actually is oriented 293° True. Therefore, winds from 290° at 4 knots blow virtually straight down the runway, and ForeFlight reports no crosswind.