Filed flight plans can be amended and canceled in ForeFlight Mobile (when outside the lock-out window). The lock-out window is a predetermined amount of time, specified by ATC, where changes to the flight plan can no longer be accepted. For more information about the lock-out period, see the support article: When can I file, cancel and amend a flight plan?
Amending Flight Plans
The following steps describe how to amend a filed flight plan.
In this example, we have successfully filed a flight plan and want to change our cruise altitude from 8000ft to 6000ft.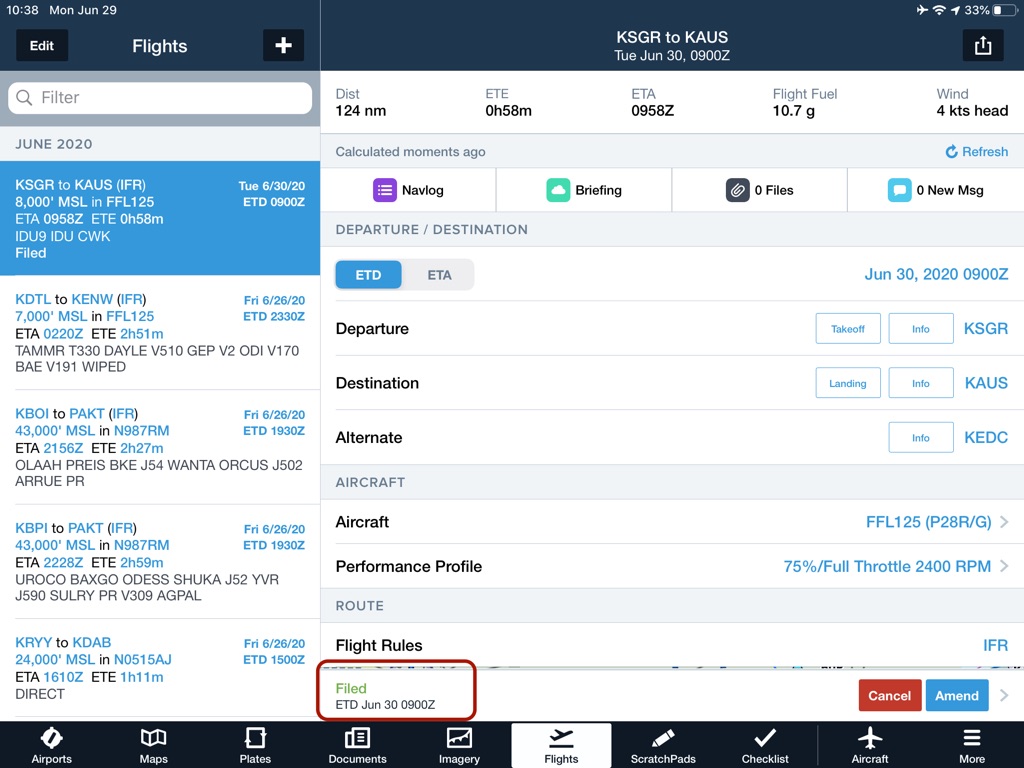 Filed Flight Plan
Select the cruise altitude field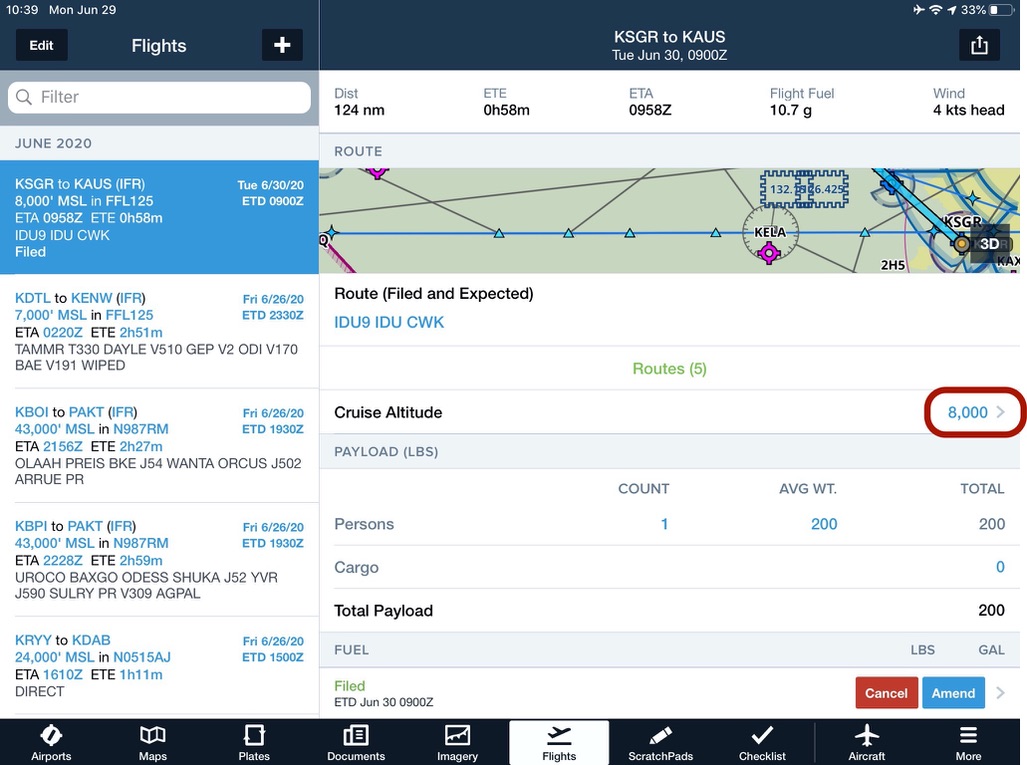 Flight Plan filed at 8000ft
Select the new cruise altitude of 6000ft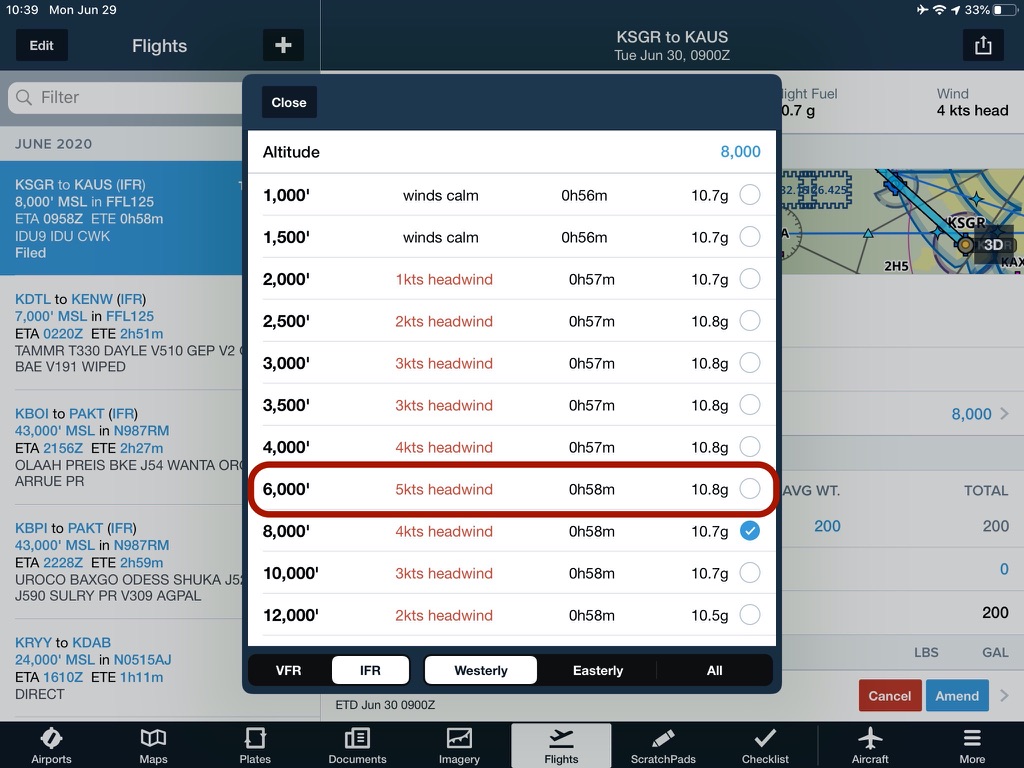 Altitude advisor
The new cruise altitude of 6000 is now loaded in ForeFlight. It is important to note that the flight plan on file has not been changed.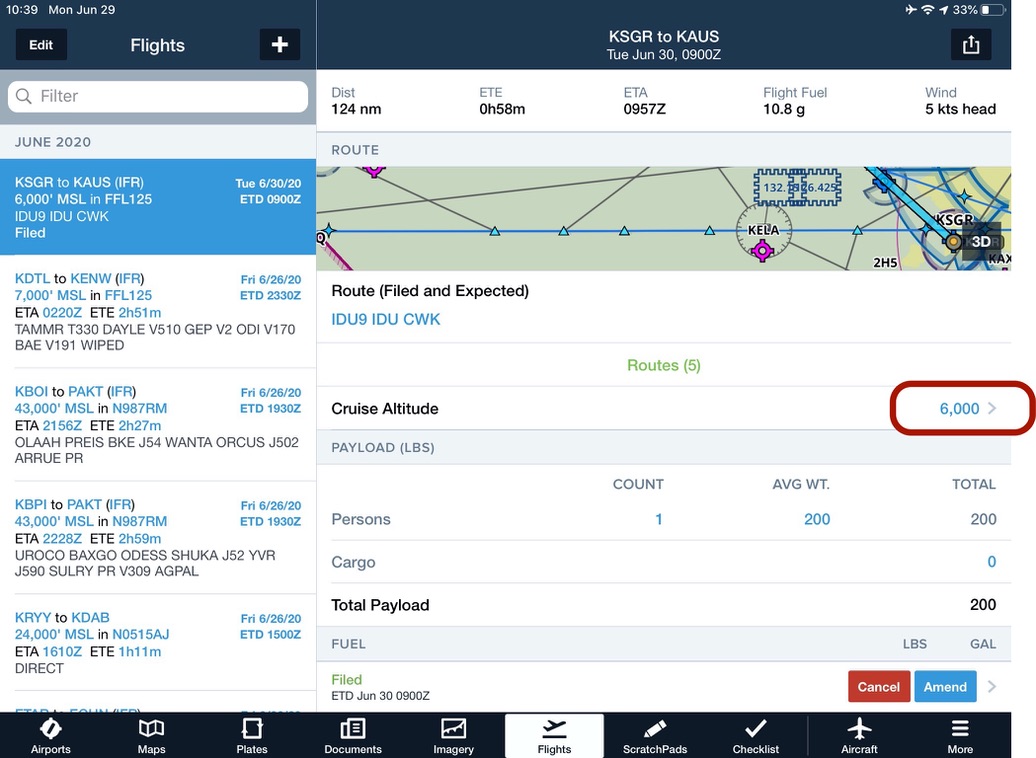 Flight Plan altitude changed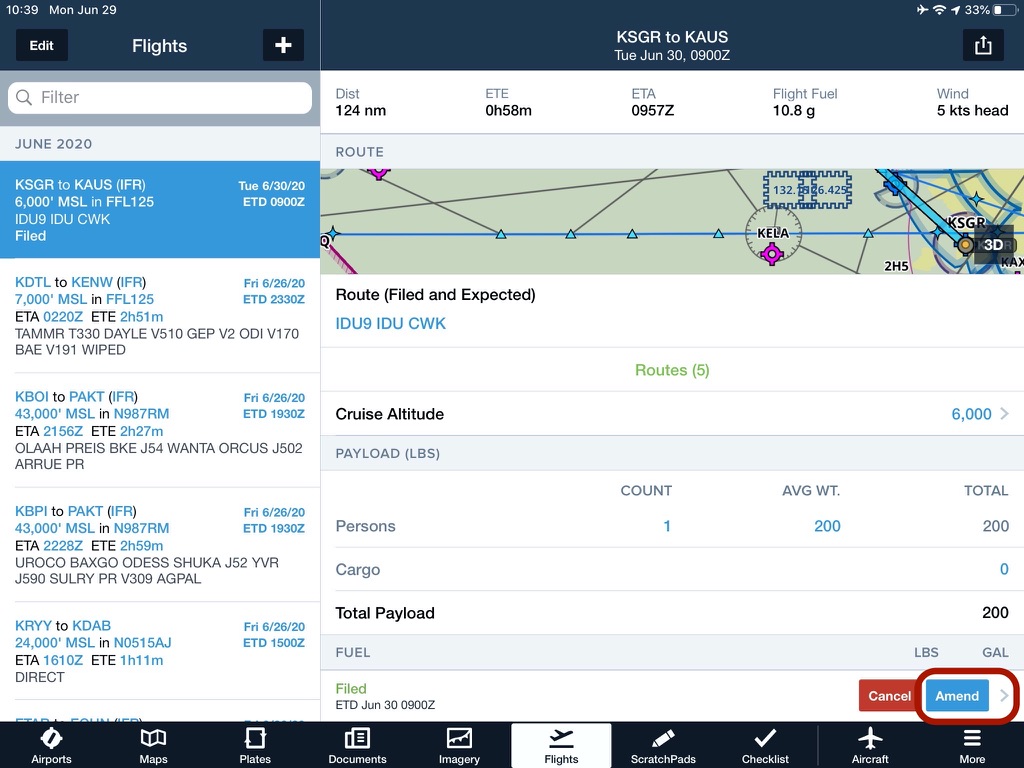 Select the Amend button
After selecting the Amend button, ForeFlight will detect that the filed flight plan and the one currently in ForeFlight are different. A pop-up box asking to confirm the changes and copy them to an Amended flight plan will appear.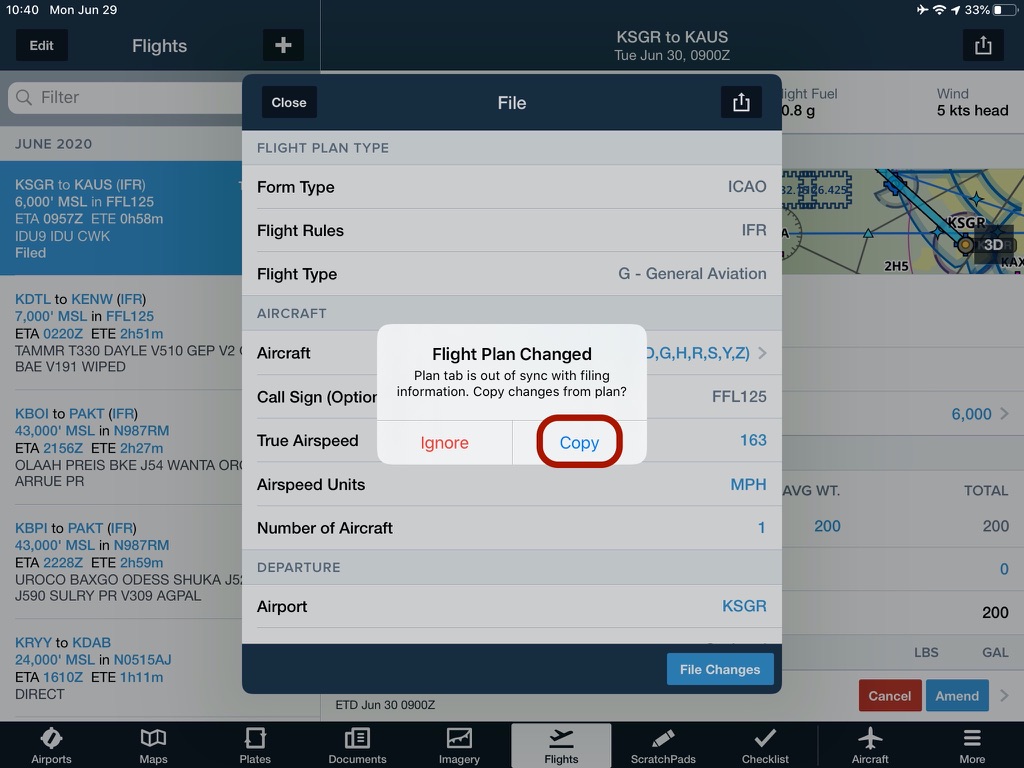 Copy changes
After confirming the changes and selecting the Copy button a new File screen will appear.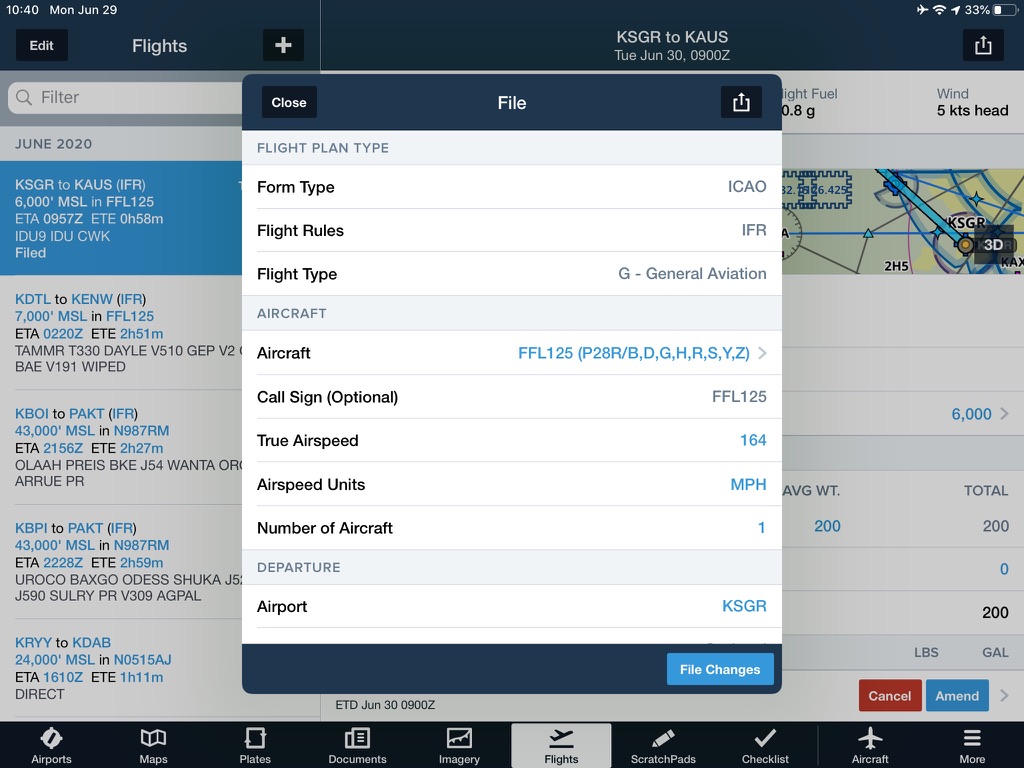 The File screen
Select the "Amend" button to send the changes to ATC.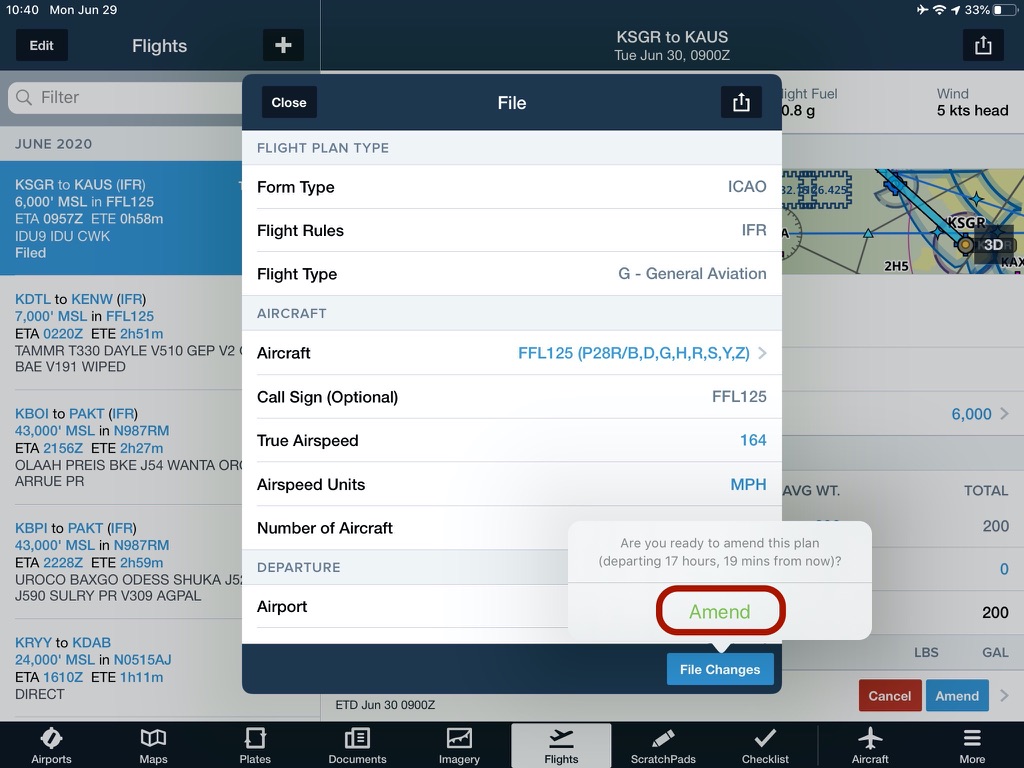 Select the Amend button
After selecting Amend, the changes will be sent to ATC. You will receive an acknowledgment that the changes have been received and a new briefing will be sent to the email listed in the flight plan.
Cancelling Flight Plans
IMPORTANT:ForeFlight Mobile cannot be used to cancel an IFR flight plan when operating at an uncontrolled airport. The option to cancel a flight in ForeFlight Mobile only changes the filing status of the plan from Filed to Canceled.
First, ensure that the plan is on file. This will be indicated by the word "Filed" displayed in the lower left of the Flight screen.
Second, ensure that you are outside of the Lock-out time for the region or FIR that the flight is filed from.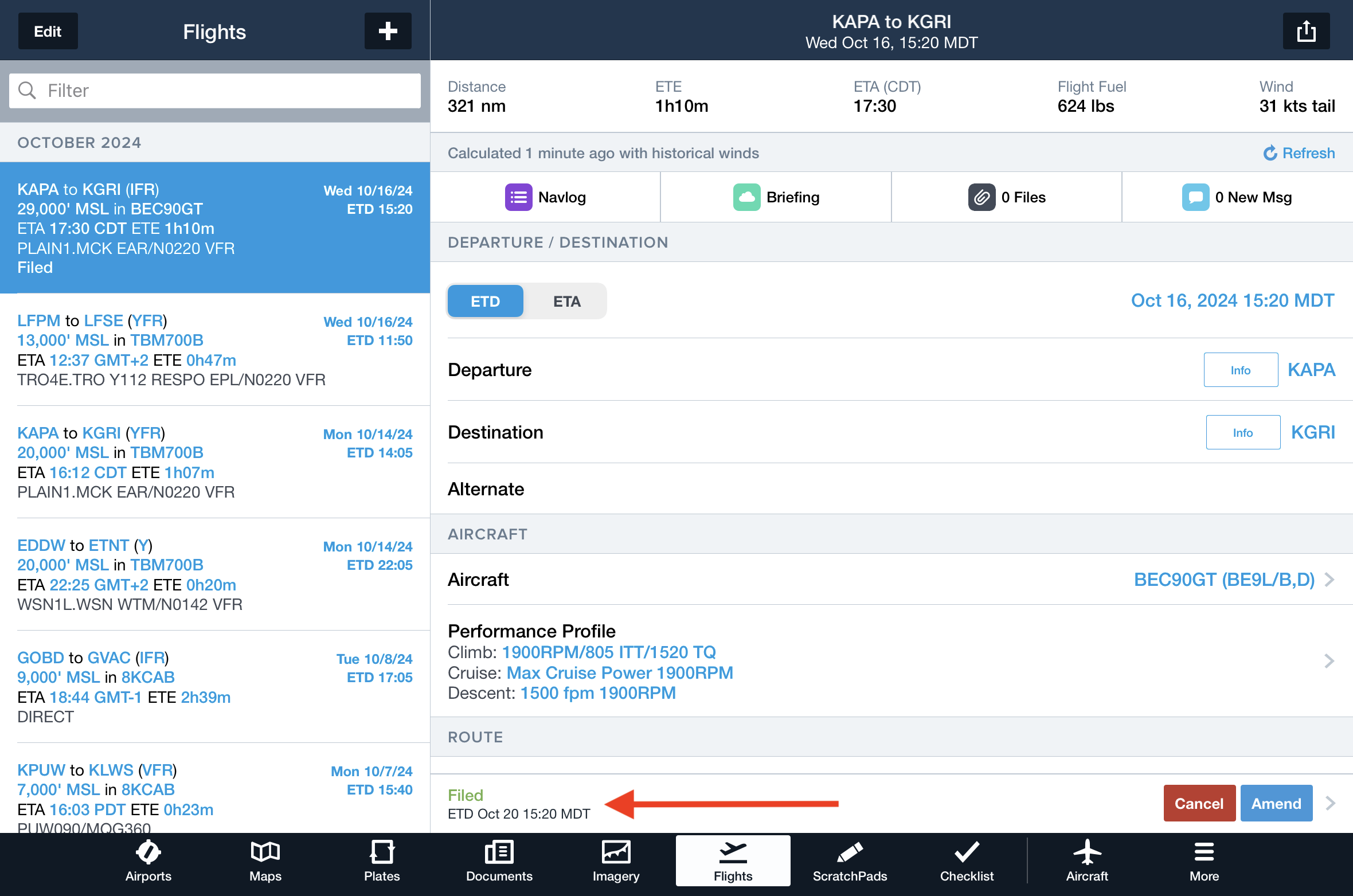 A Filed Flight Plan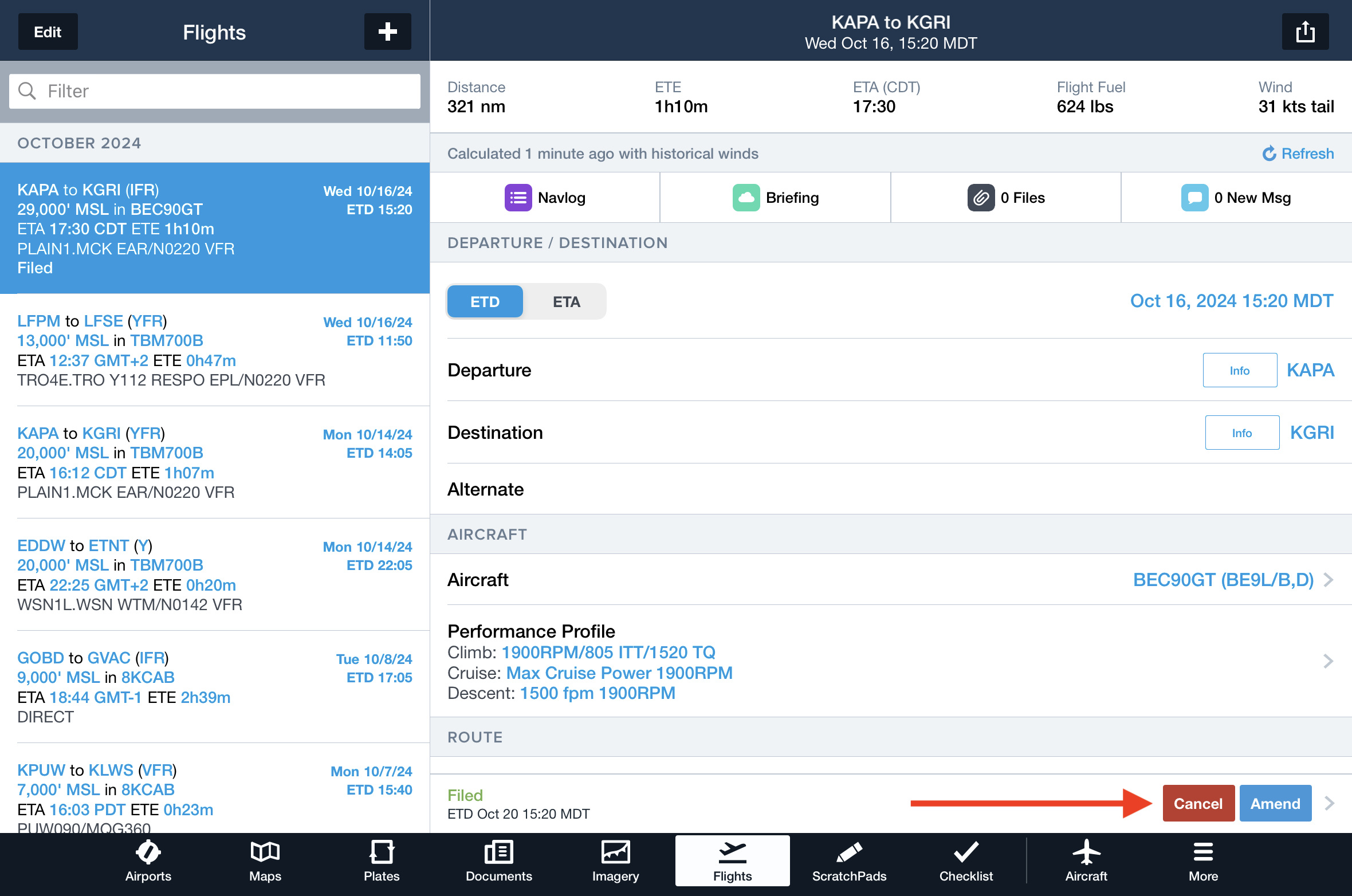 The Cancel button
A pop-up box will appear asking to confirm that you wish to cancel this flight plan. Select Yes to send the cancellation message to ATC.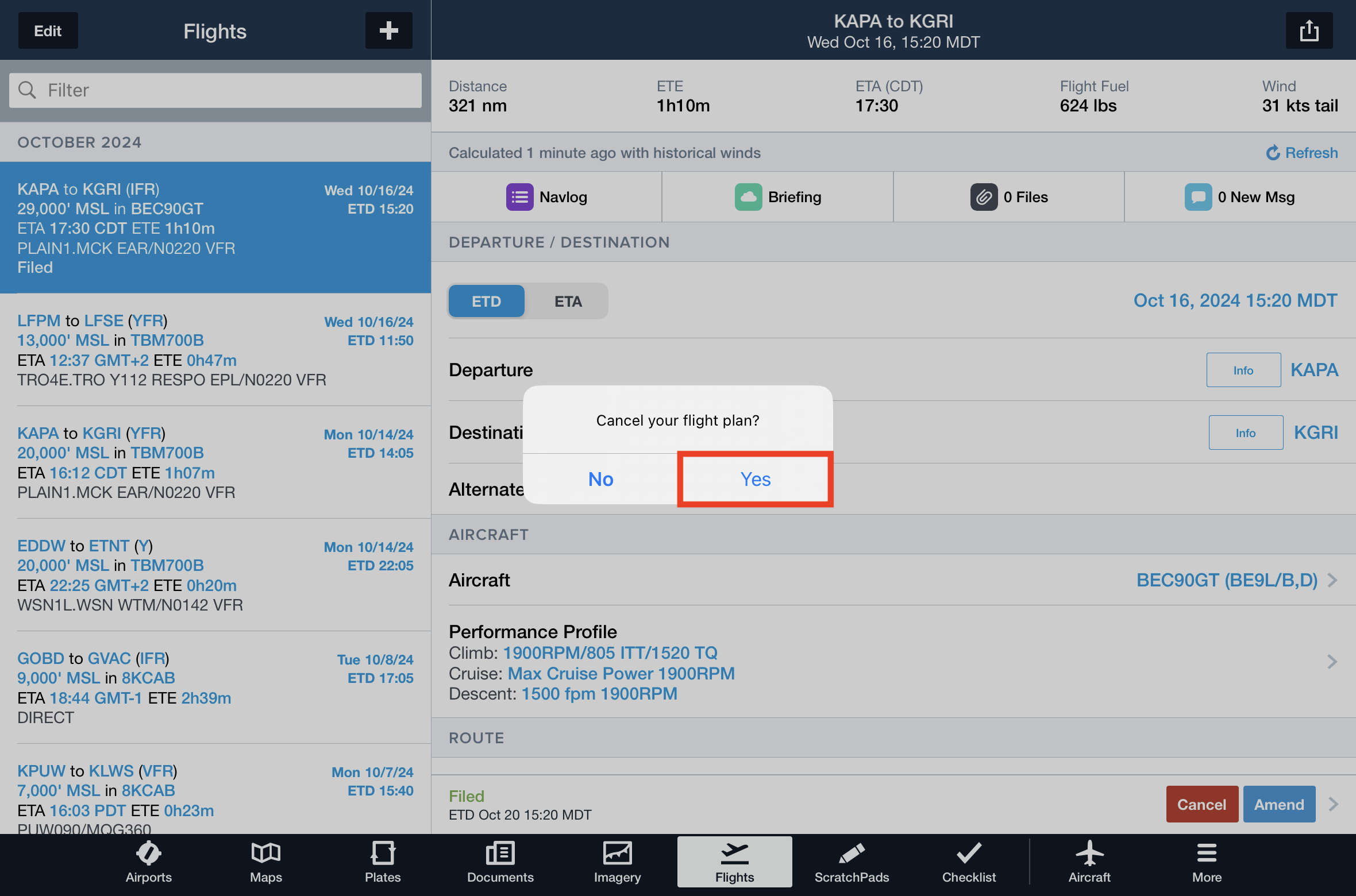 Confirm that you wish to cancel the flight plan
After the Cancel message is sent to ATC, you will receive an acknowledgment that the flight plan has been successfully canceled.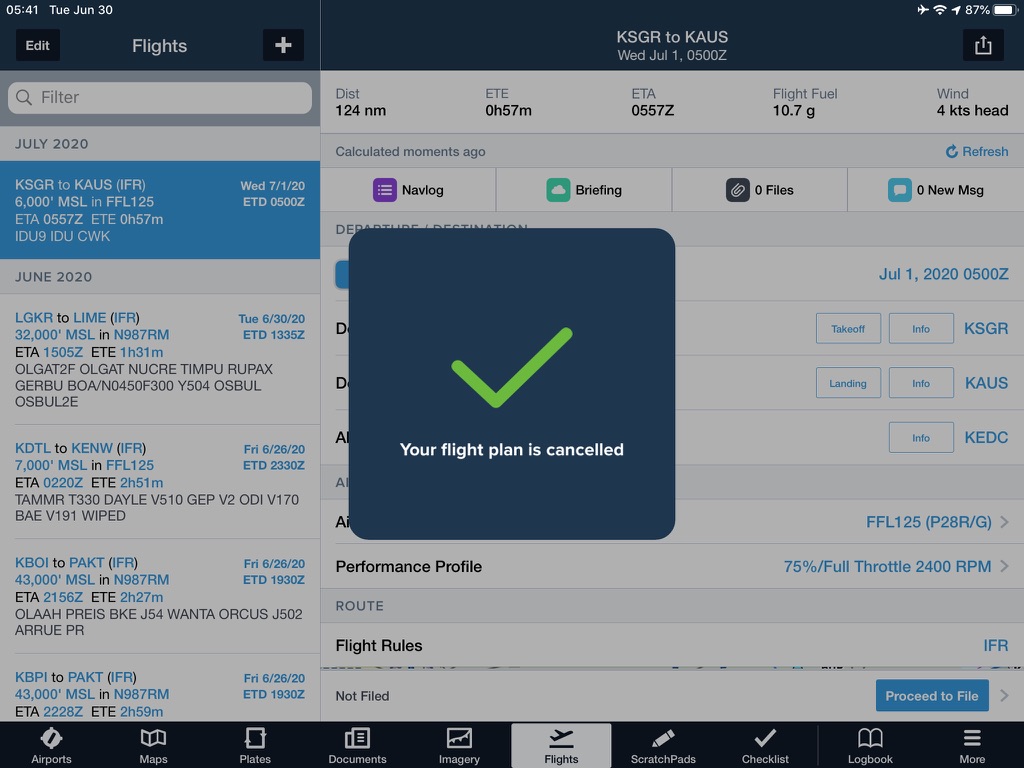 Cancellation acknowledged
The status of the Flight Plan will now show as "Not Filed".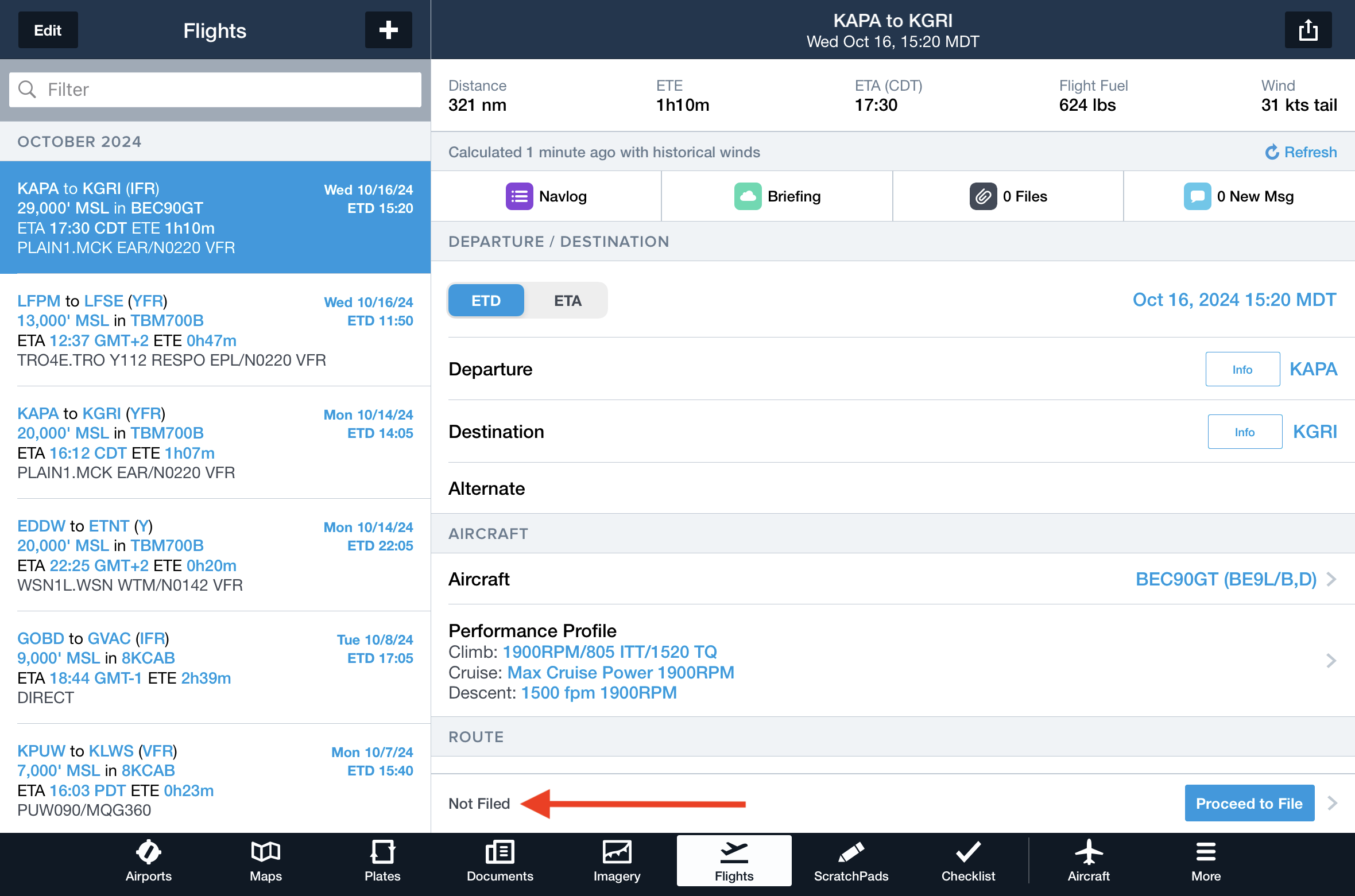 Flight plan status has changed
Was this article helpful?