The ICAO equipment field is where you indicate the navigation/approach aid and communication equipment onboard each aircraft. Below is a list of the most common selections.
S

(Standard) - Almost all aircraft will select this, which includes ILS, VOR,

and VHF Comm
capabilities. If you select S, you

do not

need to include the codes L, O, or V.
G

- Select if you have a GPS

D

- Select if you have a separate DME

F

- Select if you have a separate ADF

I

- Select if you have Inertial Navigation

B

- Select if you have a WAAS capable aircraft with LPV

R

- Select if you need to use a PBN code

N - Select only if your aircraft has no navigation/approach aid and communication
equipment installed or operable.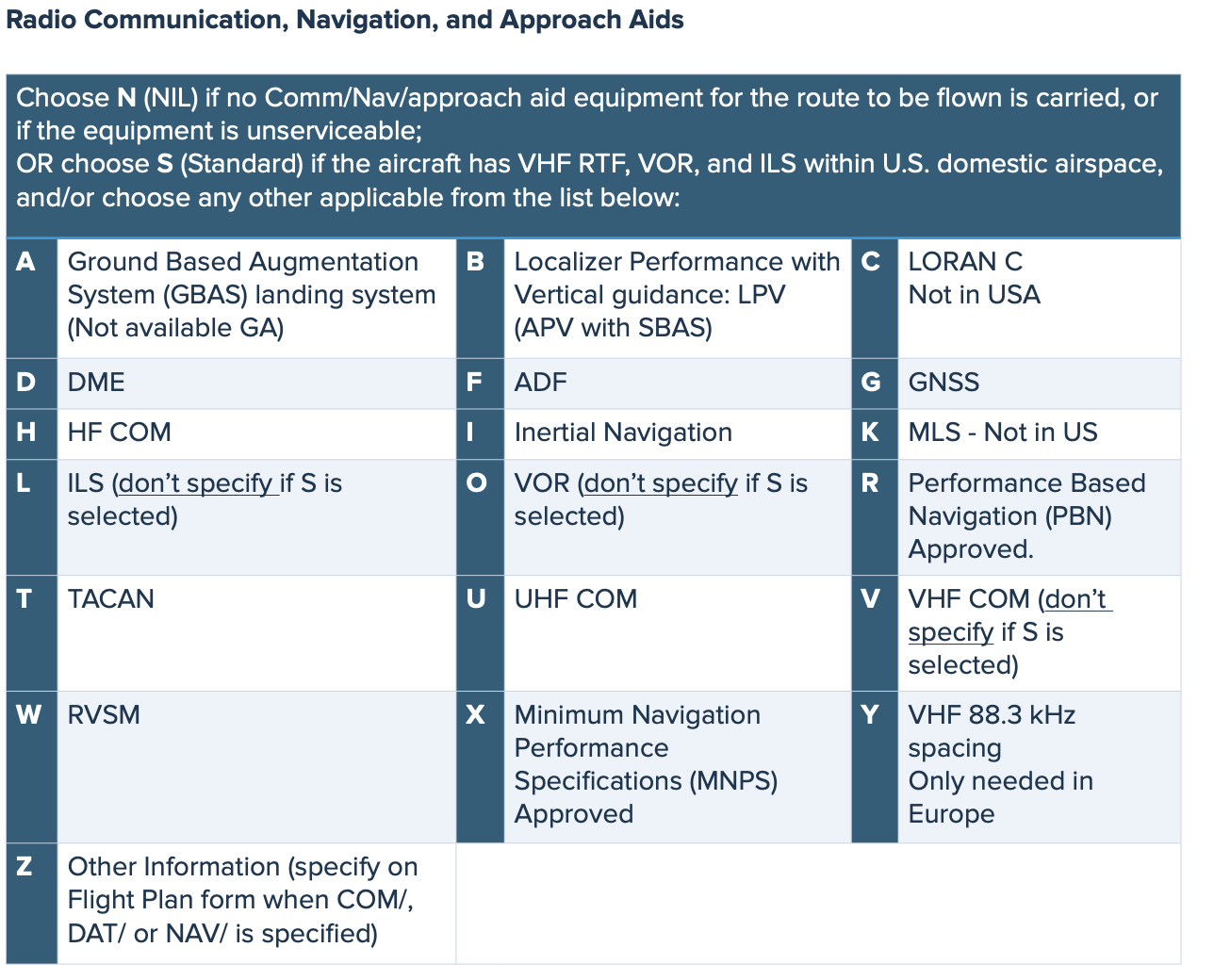 Diagram 1. ICAO Equipment codes
Performance-Based Navigation (PBN) is comprised of Area Navigation (RNAV) and Required Navigation Performance (RNP) and describes an aircraft's capability to navigate using performance standards. Here is a link to a document that goes into RNAV, RNP, and the PBN Code in great detail: RNAV, RNP, and PBN Codes document
RNAV enables aircraft to fly on any desired flight path within the coverage of ground or space-based navigation aids, within the limits of the capability of the self-contained systems, or a combination of both capabilities.

RNAV Codes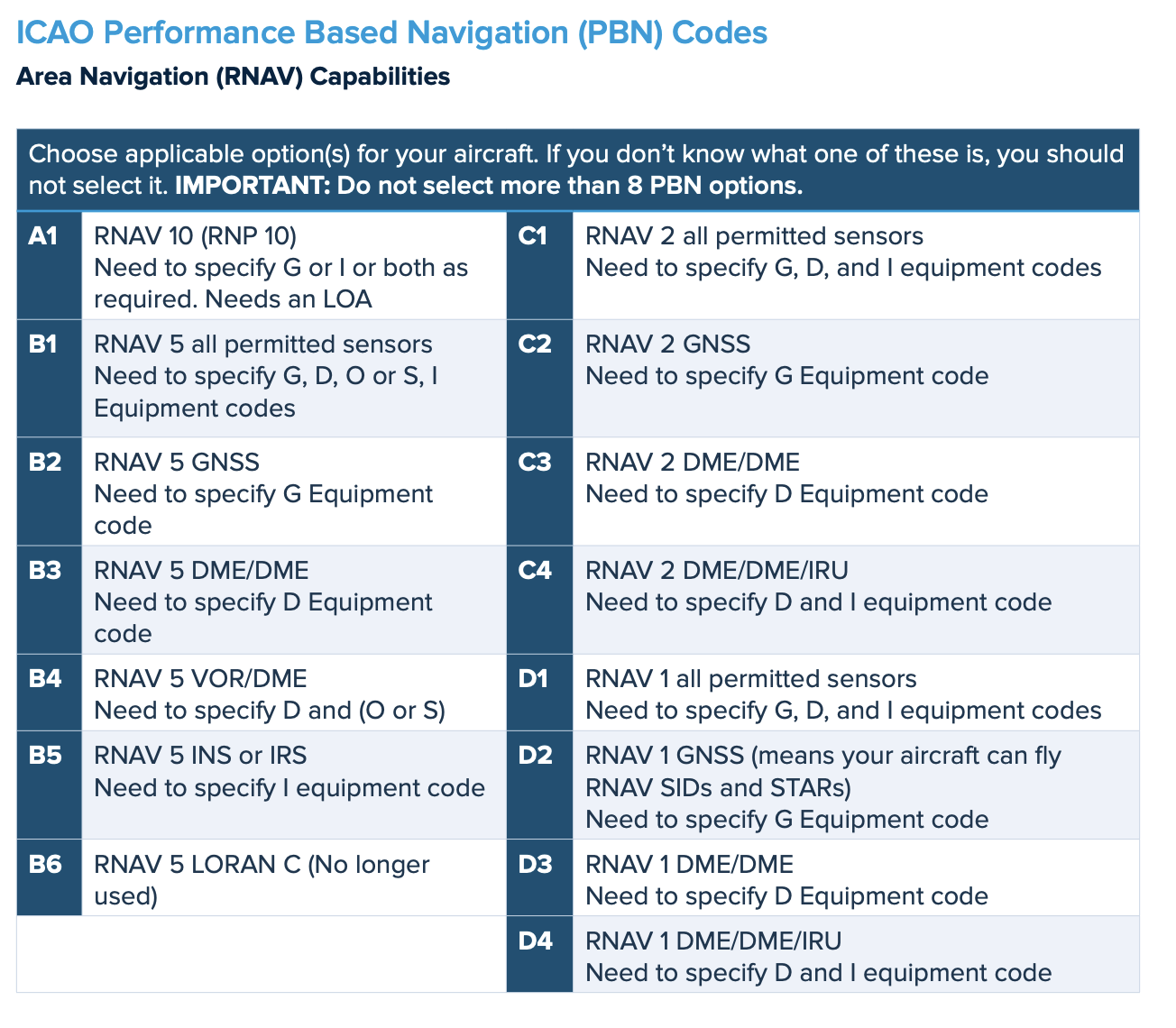 Diagram 2. RNAV PBN Codes
RNP is RNAV with the addition of onboard performance monitoring and alerting capability. A defining characteristic of RNP operations is the ability of the aircraft navigation system to monitor the navigation performance it achieves and informs the crew if the requirement is not met during an operation.
RNP Codes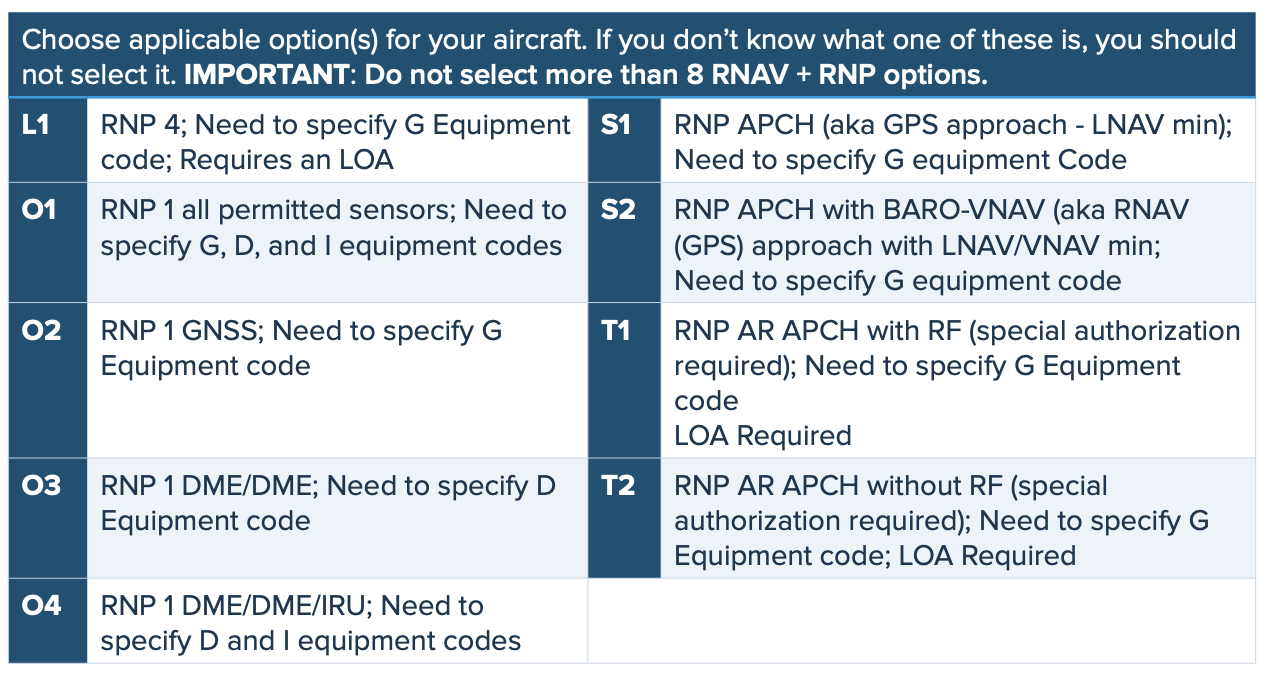 Diagram 3. RNP PBN Codes
Notes:
When specifying a PBN code, be sure to also specify R (Code for Performance-Based Navigation (PBN) Approved) and the associated sensors that the PBN code requires. For example, PBN Code D2 is RNAV 1 using GPS, therefore Equipment Code G (GNSS) must also be specified.

Don't over-specifying PBN codes. Remember there is a maximum of 8 PBN codes permitted.

Don't specify A1 or L1 without a Letter of Authorization (LOA) from the FAA. Be sure you have proper FAA authorization (where applicable) for the procedures you are filing for.

Using the Equipment and PBN Code tables, the following is an example of the correct codes for an aircraft with a Garmin 430.

ICAO Equipment: S, G, R

ICAO PBN: B2, C2, D2
ICAO Code and PBN Tables
These tables are a general aid for entering filing codes in ForeFlight and are not an authoritative or comprehensive equipment specification. Consult the AFM or AFM supplements for your aircraft to determine which codes are actually appropriate before attempting to file using ForeFlight. The codes listed below are in addition to the other ICAO Equipment code that may be appropriate for your aircraft.
For older GPS units not mentioned in the table below, please refer to the following
document: AC 90-100 COMPLIANCE TABLES
Garmin
Non-WAAS
GPS 155 - R and PBN B2,

GPS 165 - R and PBN B2,

GNC 300 - R and PBN B2,

GPS 155XL - R and PBN B2, C2

GNC 300XL - R and PBN B2,

GPS 400 - R and PBN B2, C2, D2

GNC 420 - R and PBN B2, C2, D2

GNC 420A - R and PBN B2, C2, D2

GNS 430 - R and PBN B2, C2, D2

GNS 430A - R and PBN B2, C2, D2

GPS 500 - R and PBN B2, C2, D2

GPS 500 TAWS - R and PBN B2, C2, D2

GNS 530 - R and PBN B2, C2, D2

GNS 530 TAWS - R and PBN B2, C2, D2

GNS 530A - R and PBN B2, C2, D2

GNS 530A TAWS - R and PBN B2, C2, D2

G1000 - R and PBN B2, C2, D2
WAAS
GNS 430W - R, B, and PBN B2, C2, D2

GNS 530W - R, B, and PBN B2, C2, D2

GNS 480 - R, B, and PBN B2, C2, D2

GTN 6XX/7XX - R, B, and PBN B2, C2, D2

GPS 175 - R, B, and PBN B2, C2, D2

GNX 375 - R, B, and PBN B2, C2, D2

G1000, 2000, 3000, 5000 WAAS
- R, B, and PBN B2, C2, D2)

Honeywell Bendix King
KLN-89B - R and PBN B2, C2




KLN-90A - R and PBN B2, C2

KLN-90B - R and PBN B2, C2

KLN-94 - R and PBN B2, C2

KLN-900 - R and PBN B2, C2
Avidyne
IFD 440

- R, B, and PBN B2, C2, D2

IFD 540

- R, B, and PBN B2, C2, D2

IFD 550

- R, B, and PBN B2, C2, D2
Apollo
Apollo 2001 - R and PBN B2, C2

Apollo 2101 - R and PBN B2, C2

Apollo SL50 - R and PBN B2, C2

Apollo SL60 - R and PBN B2, C2

Apollo SL65 - R and PBN B2, C2

Apollo GX50 - R and PBN B2, C2

Apollo GX60 - R and PBN B2, C2

Apollo GX55 - R and PBN B2, C2

Apollo GX65 - R and PBN B2, C2

Rockwell Collins FMS
Pro-Line 21 MC-6200,

software version HSCD 946-2720-100 and HSCD 946-2720-101


- R and PBN B2, C2, D2

Pro-Line 21 Advanced FMC-6200

software version HSCD 946-2720-102


- D, G, I, R, S and PBN B1, C1, D1

Pro-Line Fusion - D, G, I, R, S and PBN B1, C1, D1

Pro-Line 4 & Pro Line 21(2008 and later)

FMS-3000, FMS-4200, FMS-5000, FMS-6000, FMS-6100, AMS-5000,

All Versions with LPV capability


- B, D, G, I, R, S and PBN B1, C1, D1

Pro-Line 4 & Pro Line 21

FMS-3000, FMS-4200, FMS-5000, FMS-6000, FMS-6100, AMS-5000,

Versions without LPV capability (except SCID 832-4117-094 and SCID 832-4117-095)


- R and PBN B2, C2, D2

Pro-Line 4, FMS-6000, Bombardier CL-604 and CL-605


- R and PBN B2, C2, D2

Rockwell Collins unknown FMS


- R and PBN B2, C2, D2
References: U.S. Terminal and En Route Area Navigation (RNAV) Operations (PDF)
FAA ICAO Equipment Code Definitions (PDF)
AC 90-100 compliance matrix (PDF)