When a Mode S transponder with ES capability is installed that is compliant with the 2020 ADS-B mandate (FAR 91.227) and you are using a portable ADS-B receiver such as a Stratus 2S to show traffic in ForeFlight Mobile, the Mode S transponder must be set up to inform the GBT (Ground Based Transceiver) what "ADS-B In" capabilities are available for the aircraft. The GBT will only generate TISB and ADSR reports for aircraft that are its clients - that is, "ADS-B Out" equipped aircraft. Furthermore, the equipment must be configured properly or TISB reports will either not be broadcast by the GBT or only a subset will be broadcast. This leaves the traffic picture very incomplete.
One common setup issue we've seen with the Garmin 330 ES is the failure to set the Garmin to allow it to receive replies. You may need to have your avionics shop help walk you through this, but check that the Garmin has both '1090ES In' and 'UAT In' set to YES.

GTX 330 set with "1090 IN = YES" and "UAT IN = YES"
When working correctly, you will see your N number displayed in the Ownship ADS-B Out field of the Stratus Status. You can learn more in our Pilot's Guide.
After a flight with your ADS-B Out equipment supposedly active, you can request a report from the FAA about the status of your installation. Visit http://www.faa.gov/nextgen/programs/adsb/ and follow the instructions to request the report.
When you receive the report (usually within a few hours) you should see the In Capability show "Dual". This example shows an incorrectly configured ADS-B Out setup, which was not requesting the GBT send anything via ADS-B In.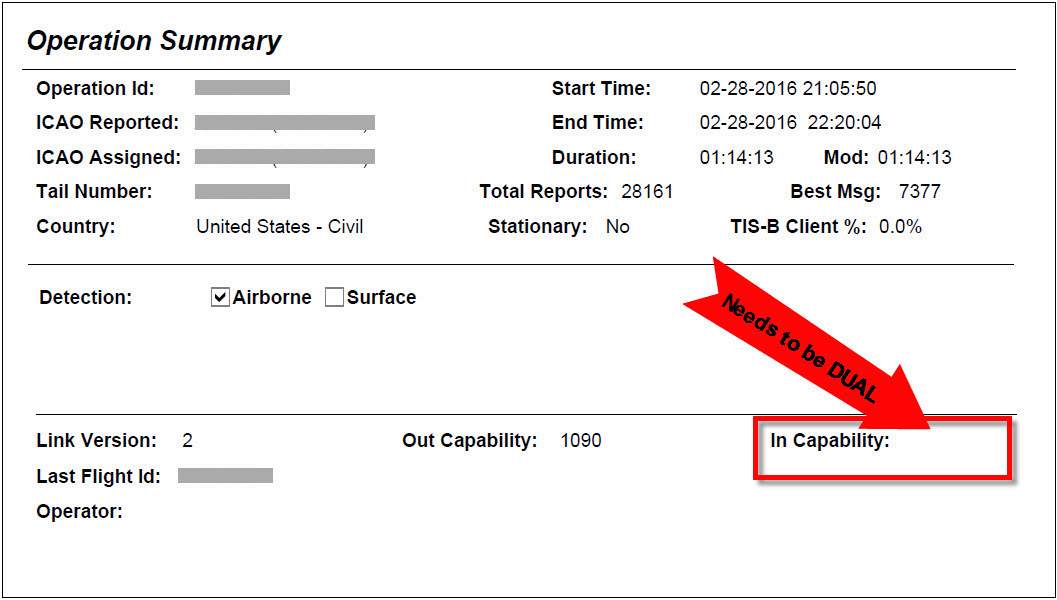 Was this article helpful?