Australian pilots wishing to file their intra-Australian IFR flights in ForeFlight can set up their aircraft profiles and file flight plans in much the same way as U.S. pilots, with a few unique considerations. This article describes how to use ForeFlight to satisfy the three main requirements that we've identified for Australian VFR filing.
We advise pilots to always follow country-specific rule and guidelines when filing flight plans, even if we don't specify them here.
ICAO Filing Codes
ADS-B Codes: The Civil Aviation Safety Authority (CASA) requires all aircraft filing IFR flight plans to be equipped with ADS-B Out systems broadcasting on the 1090 Extended Squitter frequency, so specifying this capability in your aircraft's filing codes is required before filing with it. When selecting ICAO Surveillance codes, specify either B1 or B2 in addition to a transponder code, such as C, S, or E, as shown in the screenshot below. B1 indicates dedicated 1090 Out only, while B2 indicates dedicated 1090 Out and In.
RNP Codes: The second aircraft capability required by CASA to file IFR flights is RNP 2, which indicates that an aircraft is equipped with GPS navigation monitoring and reporting capabilities to within two nautical miles accuracy. This code is unique to Australian aviation and is not an official ICAO code, so it's not available with the other ICAO PBN filing codes in ForeFlight. To specify the code, enter "RNP2" in the NAV field in Other Information, as shown in the screenshot below. When you add a code to NAV, ForeFlight will automatically add Z to your ICAO Equipment codes, indicating that additional equipment codes are specified in Field 18 of the ICAO form when you file.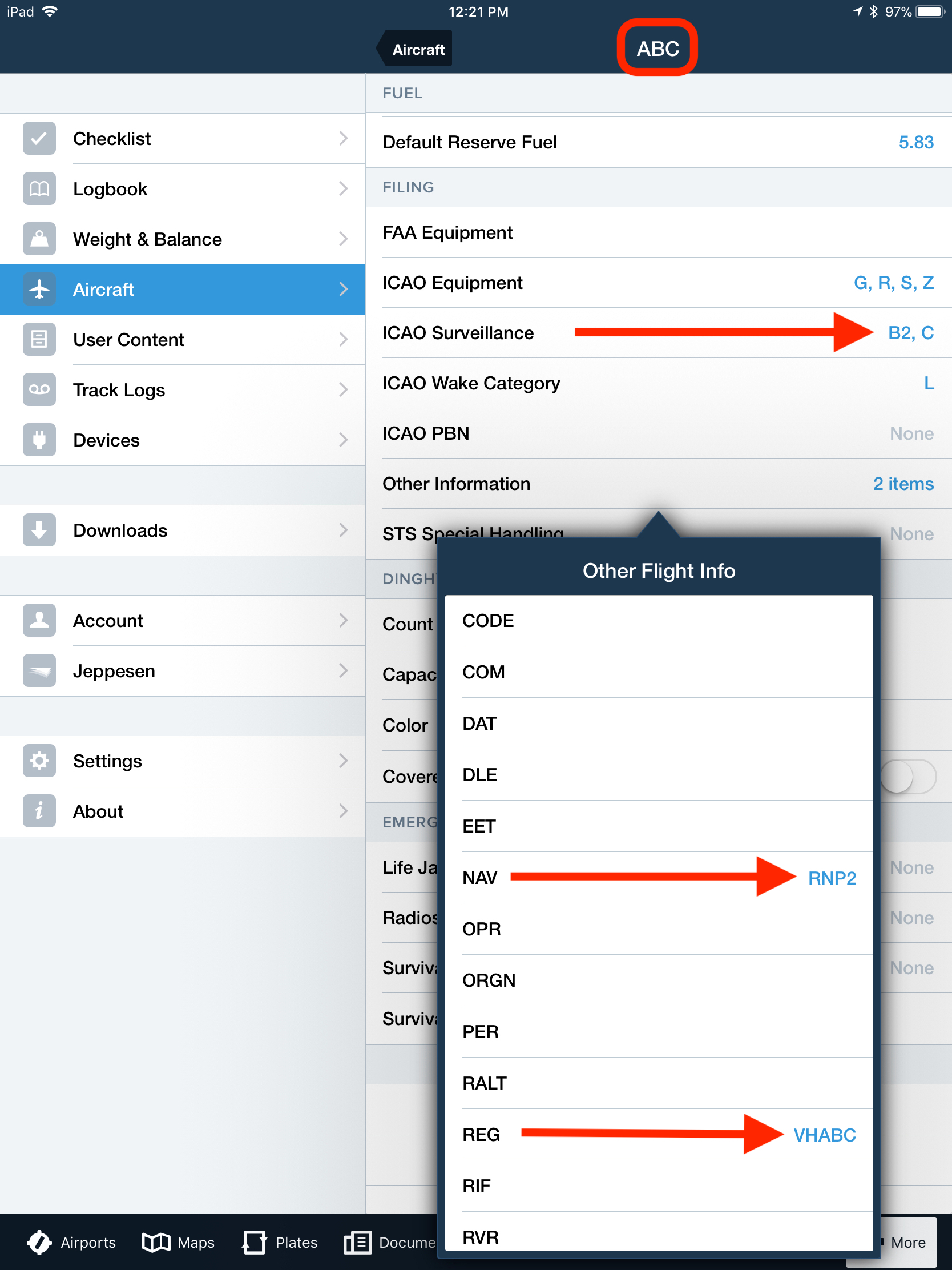 Tail Number and Call Sign Codes
The third consideration when filing IFR flight plans in Australia is how to specify your aircraft's country and registration codes. Unlike in the U.S., where the country code "N" is always included at the beginning of the registration code, CASA requires pilots to separately specify both the three-letter registration code (e.g. "ABC") in Field 7 of the ICAO form, and the five-letter country + registration code (e.g. "VHABC", "VH" being Australia's country code) in Field 18, after REG/. There are two ways to accomplish this in ForeFlight.
Method 1: The simplest way to make ForeFlight insert these codes in the right places when filing is to enter the three-letter registration code in the Tail Number field at the very top of the Aircraft Edit page, then enter the five-letter code under REG in "Other Information", shown in the screenshot above. When you file a flight plan with that aircraft, ForeFlight will insert the three-letter tail number in Field 7, and insert the five-letter code in Field 18 after REG/. This method is best if you want to set up your aircraft's filing information once and not have to mess with it again each time you file.
Method 2: The second method is to enter the full five-letter country + registration code in the aircraft's Tail Number field, then enter the three-letter code in the Call Sign field of the Flights view filing form, as shown in the screenshot below. When you file the flight plan, ForeFlight will insert the call sign code into Field 7 and move the tail number code to Field 18 after REG/. This method provides more flight-to-flight flexibility than the first, which is helpful if you frequently file with a call sign other than your aircraft's tail number. On the other hand, this means that you need to enter something in the call sign field for every filed flight plan, so if you generally file with the same call sign then method 1 may be a better solution.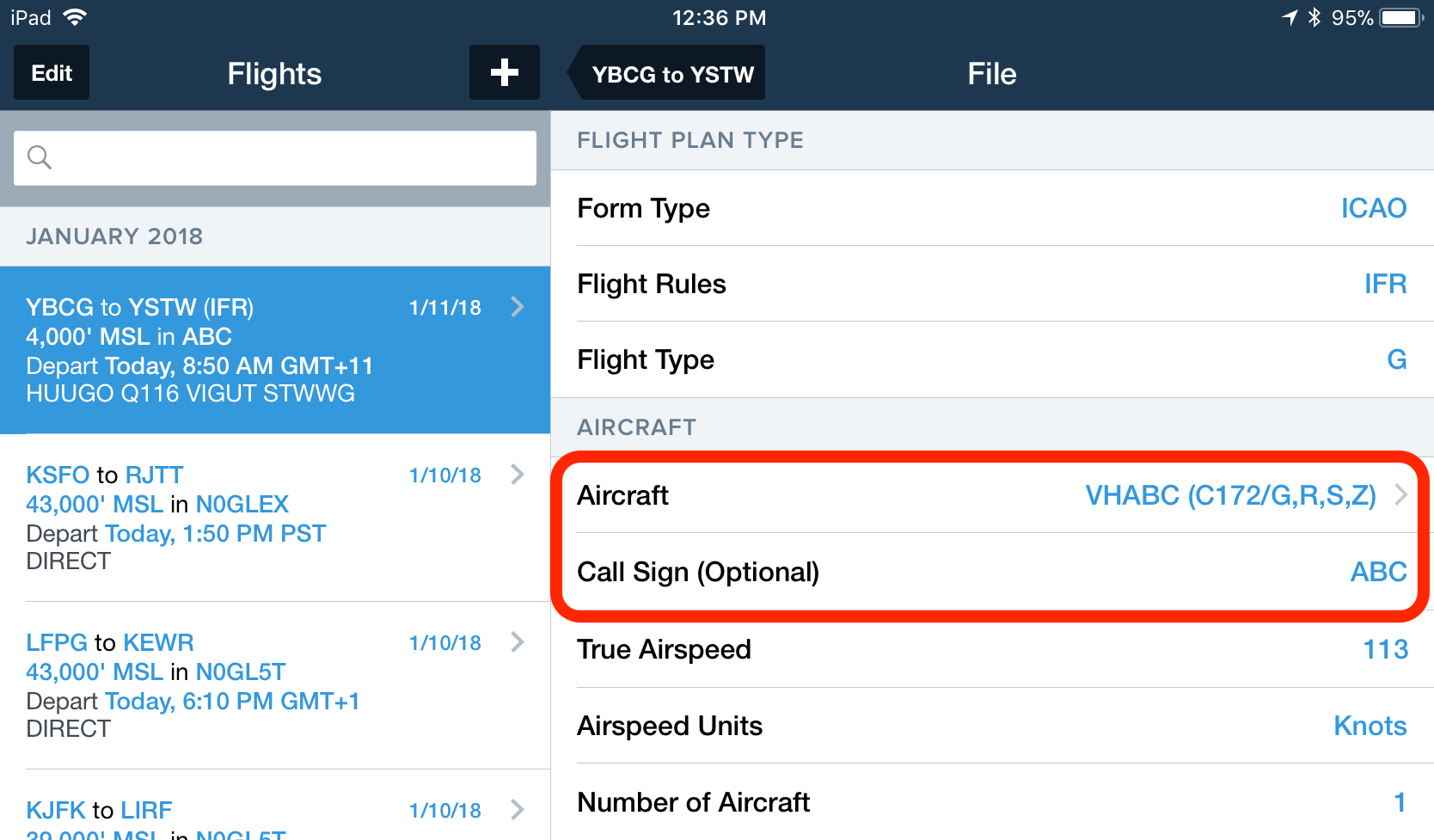 If you encounter any issues when filing intra-Australian flight plans, either within ForeFlight or in messages about your flight plan from ATC, please email team@foreflight.com with a full description of the issue, including screenshots if possible, so we can investigate.