If you are the administrator of a multi-pilot ForeFlight account, such as one operated by a Company, a Flight School, or a Military unit, you can add a pilot to your account by signing-in at: https://plan.foreflight.com
Then select the Organization tab and confirm you're viewing the Users tab (upper-left).
Then click the blue "Add User" button to add the pilot.

Figure 1. Add User
You can add up to 5 pilots at a time using the pop-up, or to add more than 5 at once you can upload a CSV. The CSV must contain the email address in the first column, and can optionally include up to 3 additional columns: Full Name, Phone Number, and Crew Code.
NOTE: The "Crew Code" field is only applicable to Business Performance accounts that have purchased ForeFlight Dispatch. The "Crew Code" field should be omitted from the CSV if the account is Business Pro, or if it is a Business Performance account that has not also purchased ForeFlight Dispatch.
Email,Full Name,Phone Number,Crew Code
john@example.com,John Smith,555-555-5555,A1
If one or more pilots you attempt to add already have an existing ForeFlight subscription under the address you entered, you will see a pop-up confirming that you want to send an invitation email to that user.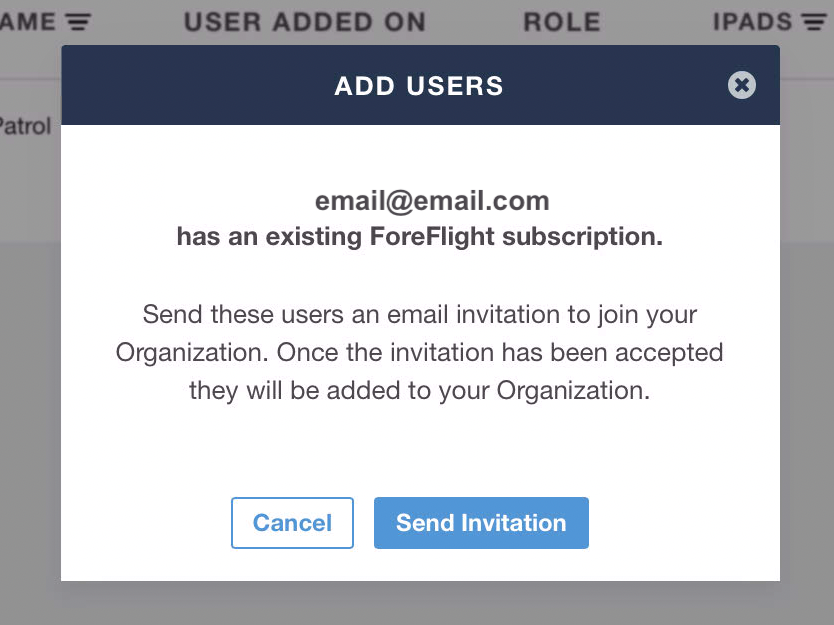 Figure 2. Pop-up when an invited user has an existing ForeFlight subscription
Click "Send Invitation" to send the invitation email from ForeFlight's servers to the listed pilot(s). Click "Cancel" to not send them an invitation.
See https://support.foreflight.com/hc/en-us/articles/19027194341015-What-does-an-email-You-have-been-invited-to-join-in-ForeFlight-mean- for details of the invitation sent to the invited pilot.
If the user accepts the invitation their address will be added to your multi-pilot account, and their current ForeFlight subscription will be cancelled. Any remaining time on their subscription will be converted to a ForeFlight store credit associated with their account.
Invitations automatically expire 30 days after they are sent.
Was this article helpful?