There are several options to open or add documents within ForeFlight.
1.  VIA DROPBOX - A DropBox account will automatically sync with ForeFlight Pro Plus once you link your accounts. You can link your ForeFlight account to a Dropbox account (free or paid) at:
    https://plan.foreflight.com/account/integrations
Once linked, any compatible documents placed in the "/Dropbox/Apps/ForeFlight" folder on your computer will be automatically shown in the Smart Binder download list in ForeFlight Mobile. The Smart Binder name is set to whatever you enter in the "Catalog Name" box.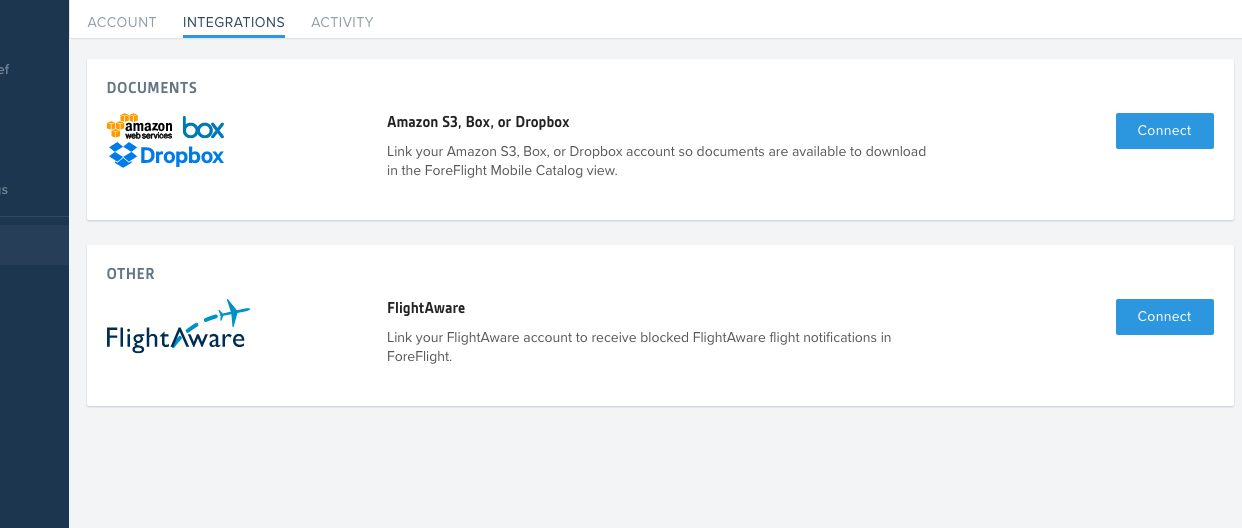 Image 1. Import via DropBox.
You can learn more in the DOCUMENTS section of our Pilot's Guide to ForeFlight Mobile.
2. BY EMAIL (PDF Only) - You can open or send a PDF document to ForeFlight using your email. Tap on the PDF file within the email so the PDF displays in the PDF viewer.  With the PDF showing in the viewer, simply tap on the SEND TO button in the upper right, scroll until you find ForeFlight, and then select COPY TO FOREFLIGHT. This transfers and opens the document in ForeFlight.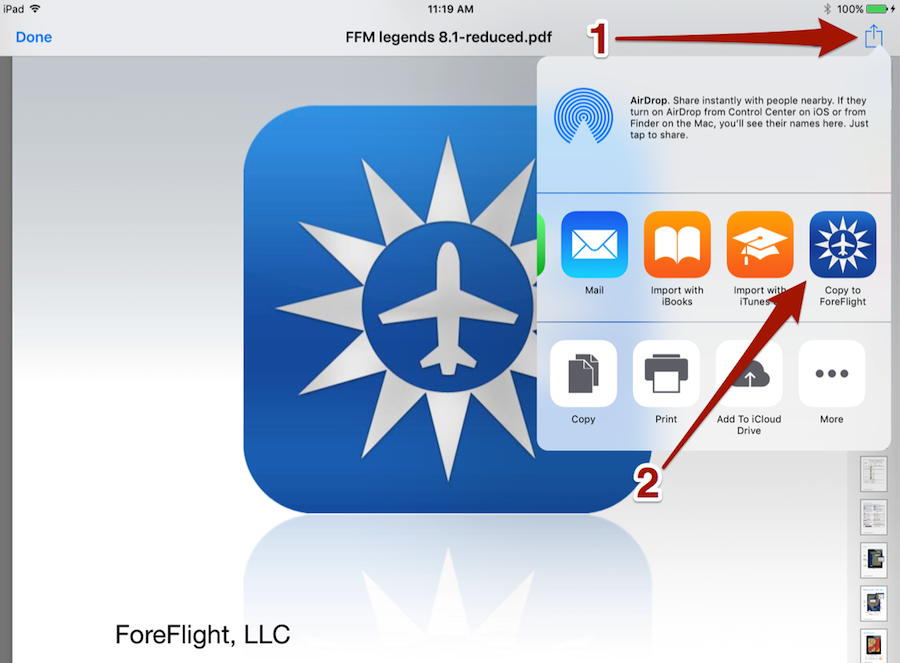 Image 2. Import via email.
3. VIA SAFARI (PDF Only) - You can import a PDF when viewing a PDF from a website using Safari. All you have to do is tap on the PDF in Safari while it is showing. A bar will appear with OPEN IN "iBOOKS" or "OPEN IN...". Tap on "OPEN IN..." and select OPEN IN FOREFLIGHT. The PDF will be added to the Documents library in ForeFlight.
Image 3. Import via Safari.
4.  VIA iTUNES (PDF, JPG, TIF, PNG, GIF formats) - Plug your iPad into your computer using the Apple USB cord and start iTunes on the computer and follow these steps:
Inside iTunes, click on the iPad icon in the upper left.
In the left pane, click the Apps tab at the top.
Scroll to the File Sharing section at the bottom of the page and click on ForeFlight.
On the right, you will see a table titled ForeFlight Documents. Drag and drop your files onto this table. While the files are copying over, you will see a brief Sync in Progress message on your iPad.
After the copying has completed, launch ForeFlight Mobile and tap on the Documents tab. The files will be imported into the app and appear at the end of your current binder. After a file is imported, it will disappear from the iTunes listing. 
Image 4. Import via iTunes.