To set the page size when printing a plate (such as a procedure or airport diagram), use one of the following options.
Option #1: Printing from ForeFlight Mobile
Procedures can be printed in a specific size if the printer allows you to select the paper size. To do so, follow these steps:
STEP 1. In ForeFlight Mobile, open the procedure or diagram in the Plates view.
STEP 2. Tap Send To > Print.

STEP 3. In the Print Options menu, tap Printer and select an available wireless printer.

STEP 4. Tap Paper Size and select from an available size option. These may vary depending on the printer selected.

STEP 5. Set other Print Options fields as necessary, and then tap Print.
Option #2: Printing from ForeFlight on the Web
STEP 1. In ForeFlight Web, in the sidebar, click Maps.
STEP 2. On the Maps view, click an airport symbol to see its details.
STEP 3. In the airport details menu, click Info.
STEP 4. On the Info tab, in the Procedures section, select a type of Procedure and then select a specific plate. The plate will open in a new tab.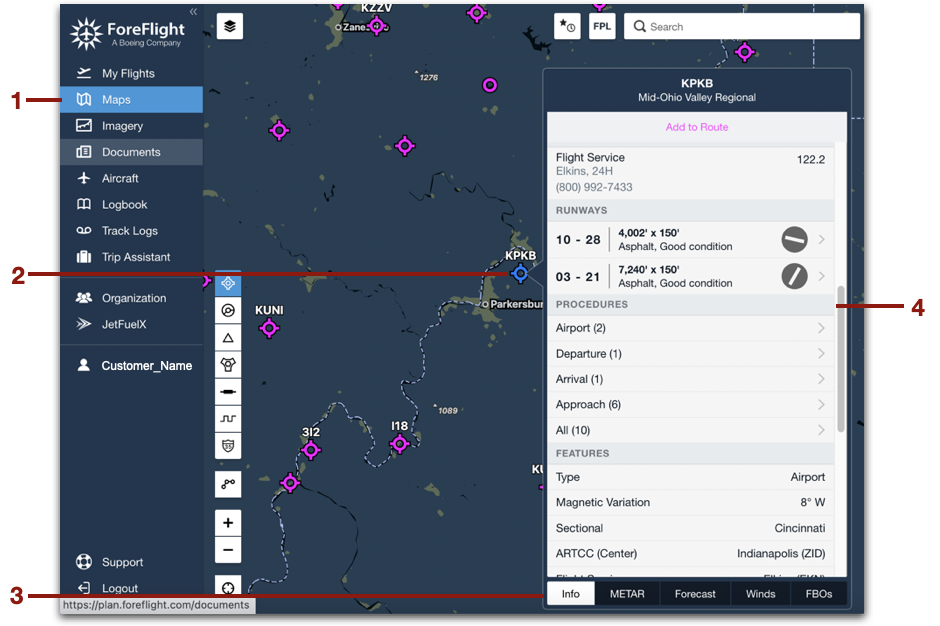 Opening a Plate in ForeFlight Web
STEP 5. With the plate opened in a new tab, select the print option. Where this is found varies by web browser used.
STEP 6. In the Print window, find the setting to select a Paper size option. The 5.5" x 8.5" or "Statement" sizes are recommended for Plates, but the options available will depend on the printer used.
STEP 7. Click Print.
Was this article helpful?