If your iPad or iPhone has iOS 11 or later, a ForeFlight FPL file (the kind attached to a message when a route is emailed from the Maps page) can be imported into ForeFlight Mobile via iTunes (i.e., without accessing the Internet, email, Dropbox, etc) using these steps:
WHAT YOU'LL NEED
- An iPad or iPhone running iOS 11 or later with ForeFlight Mobile installed,
- A computer running an up-to-date version of iTunes,
- A Lightning-USB cable,
- A compatible FPL file to import.
STEPS
STEP 1. Open iTunes on the computer.
STEP 2. Plug the USB end of the cable into the computer and the Lightning plug end into the iPad or iPhone.
STEP 3. Click on the DEVICE ICON in iTunes.
STEP 4. Click on the FILE SHARING option in the left iTunes menu.
STEP 5. Click on PAGES (NOT on "ForeFlight").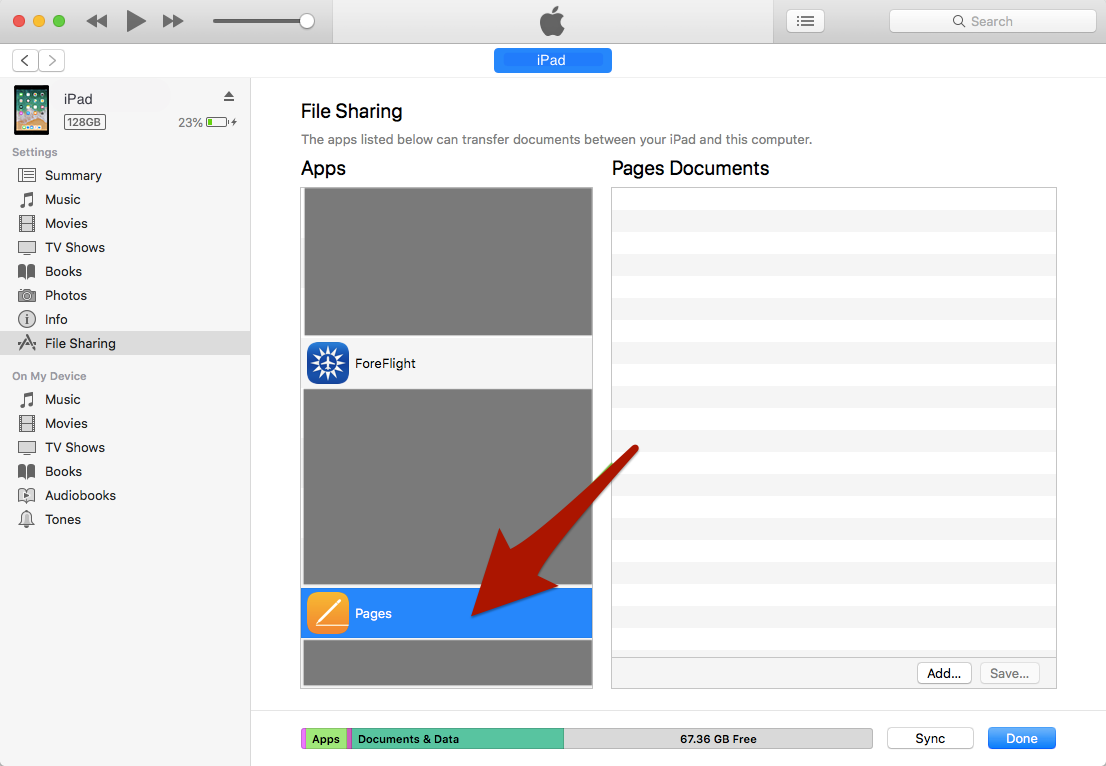 Click on FILE SHARING and then PAGES

STEP 6. Locate the FPL file on the computer and drag it into the "Pages Documents" area in iTunes.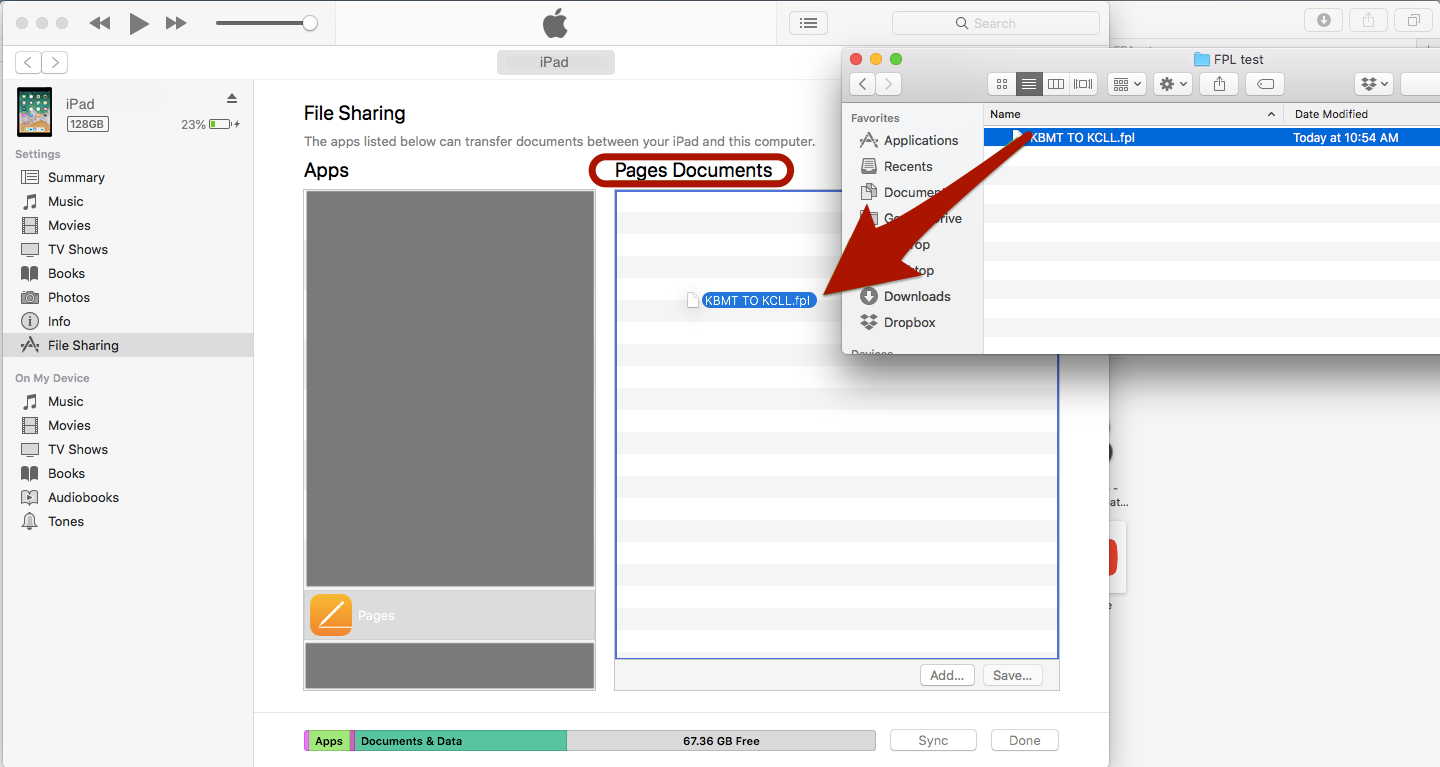 Drag the FPL file into the "Pages Documents" section in iTunes

STEP 7. After the FPL file is in the "Pages Documents" section, click DONE.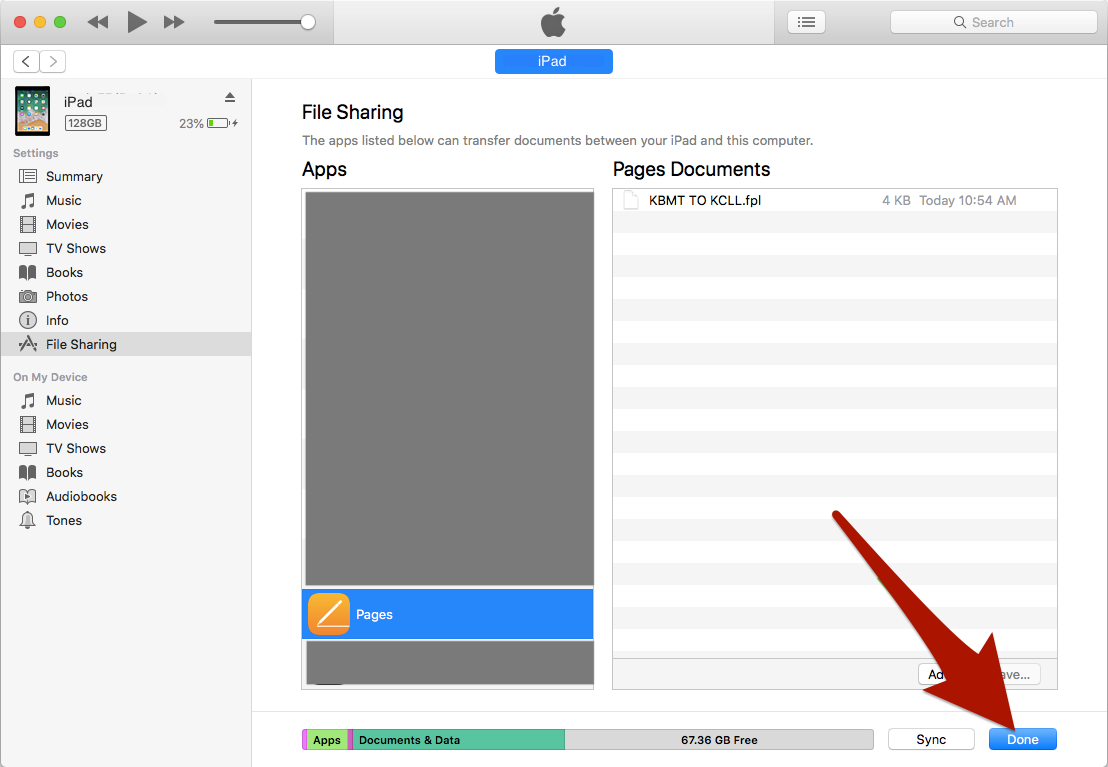 Click DONE

STEP 8. Unplug the iPad or iPhone from the computer.
STEP 9. On the iPad, open the FILES app. If you don't remember where you moved it, you can find it swiping down from the top of the screen to expose the iOS Search function. Type "files" then tap on the Files app icon.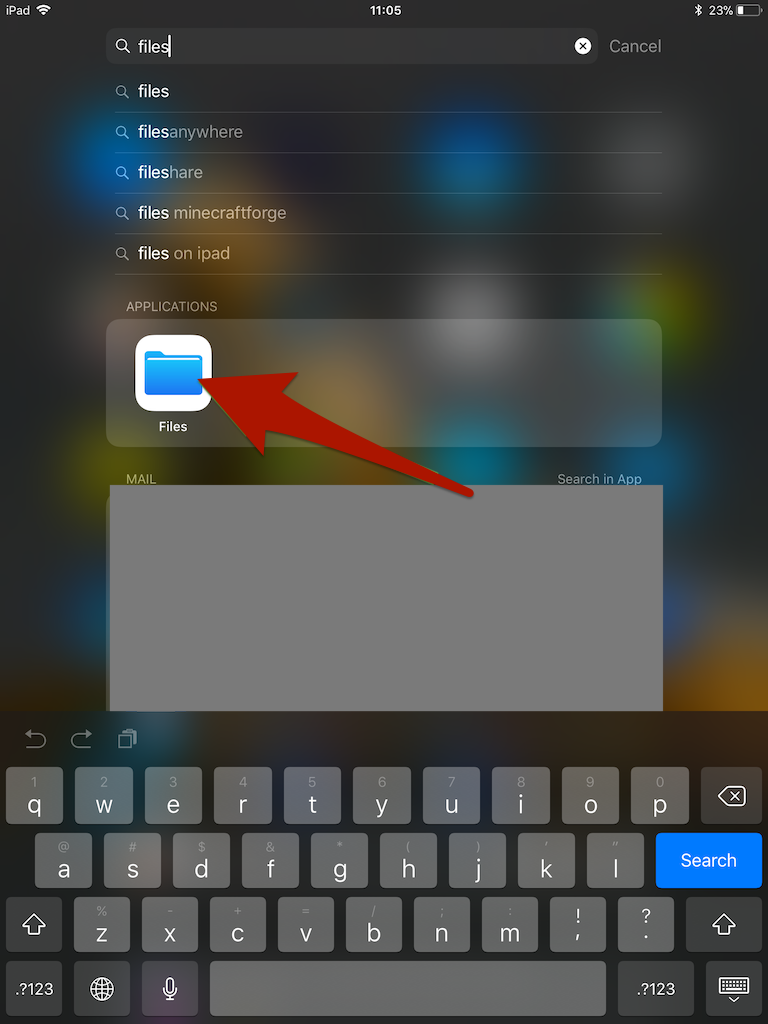 Open Files on iPad or iPhone

STEP 10. When Files opens, tap on BROWSE at the bottom of the screen.
STEP 11. Tap on the PAGES icon.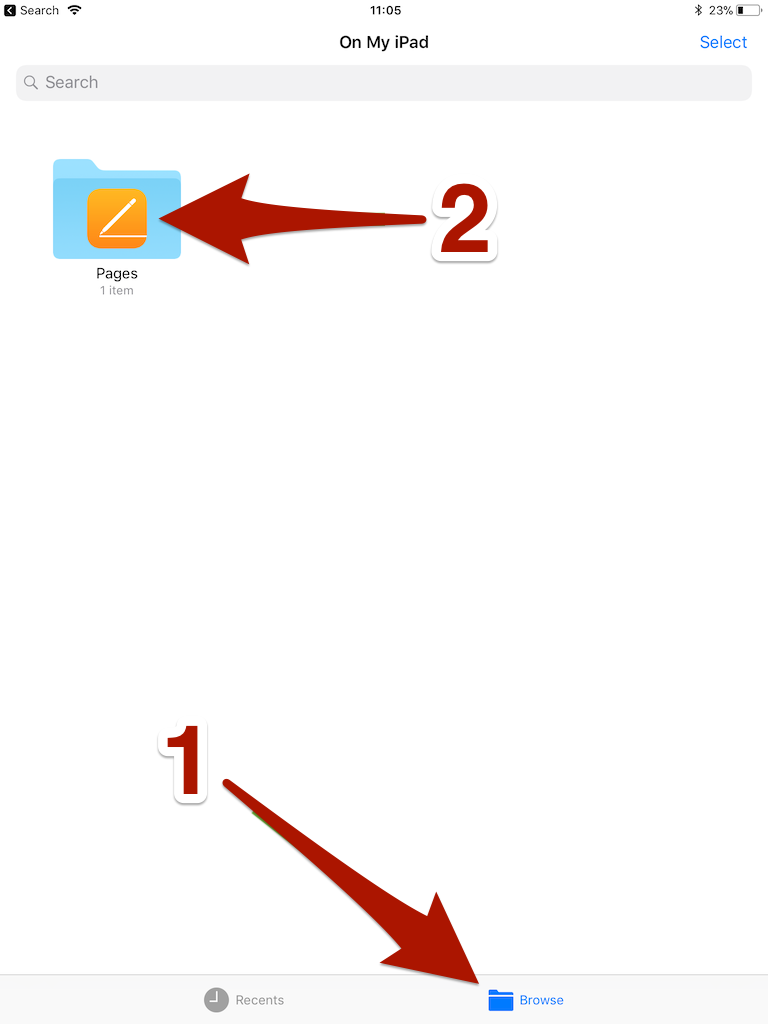 Browse files and tap the PAGES folder


STEP 12. In Files, tap on the FPL file.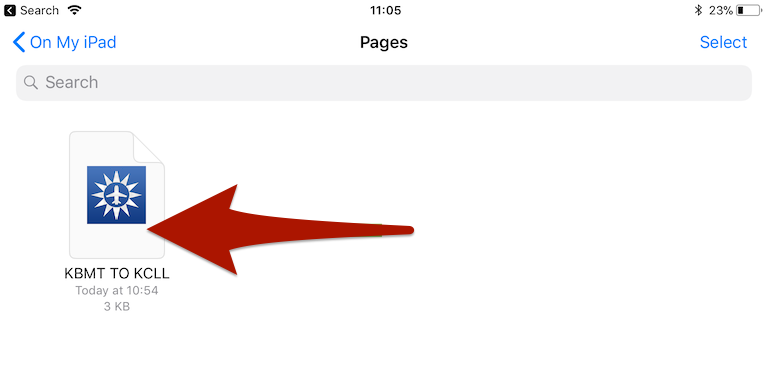 Tap on the FPL file

STEP 13. When the FPL file opens, tap the SEND TO button in the upper right.
STEP 14. In the Send To menu, scroll right as needed until you see "Copy to ForeFlight". Tap COPY TO FOREFLIGHT.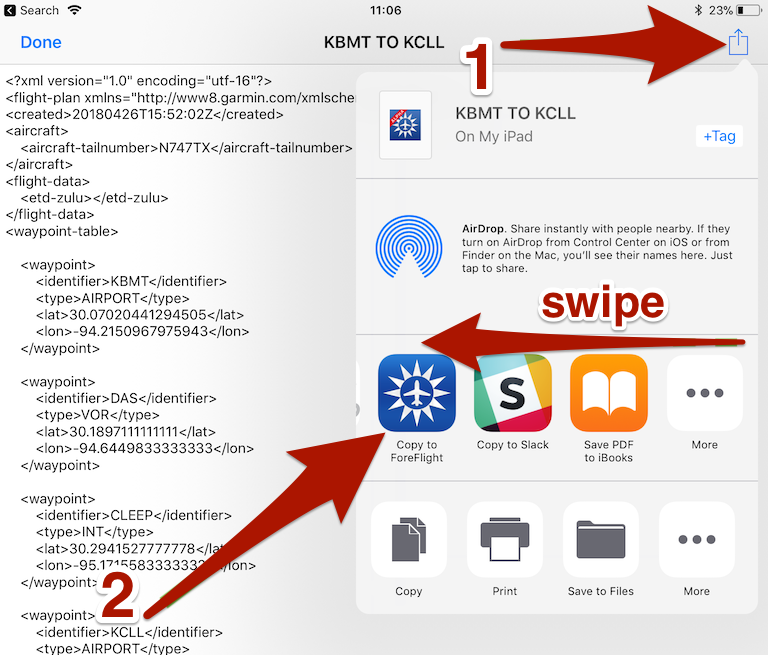 Tap SEND TO and then scroll right and tap on COPY TO FOREFLIGHT

STEP 15. The route will then open in ForeFlight Mobile.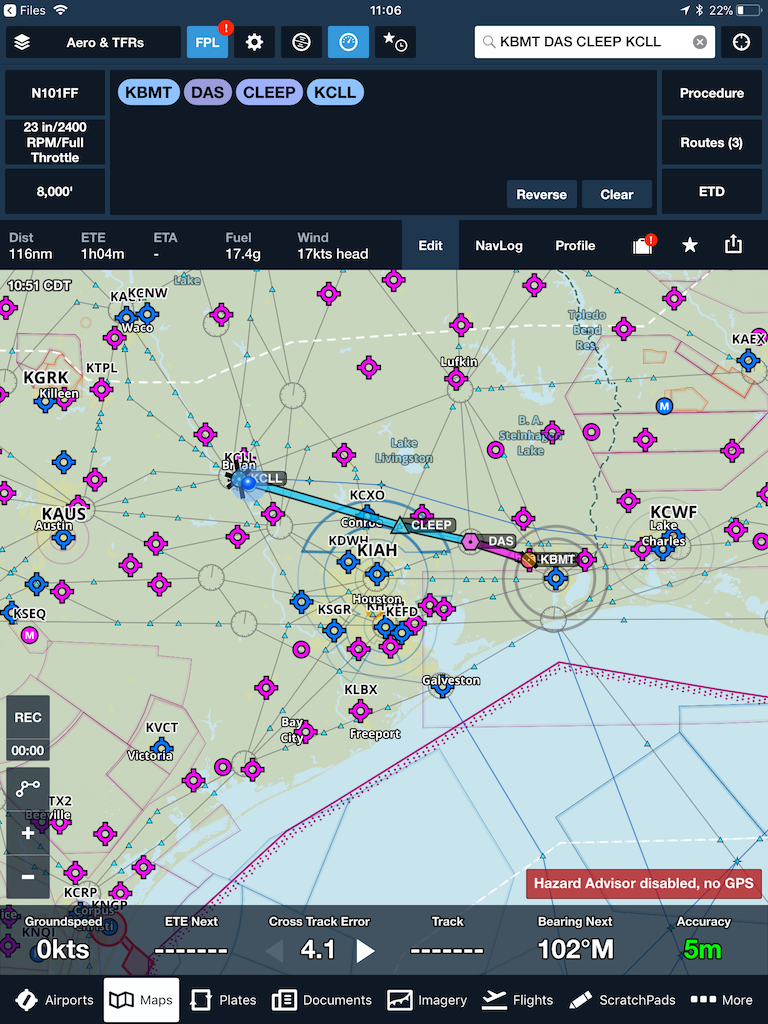 Route opens from FPL file in ForeFlight Mobile

STEP 16. To keep your Files organized on your iPad or iPhone, you can delete unneeded FPL files. Tap SELECT and then tap the FPL file(s) you no longer need. Tap DELETE.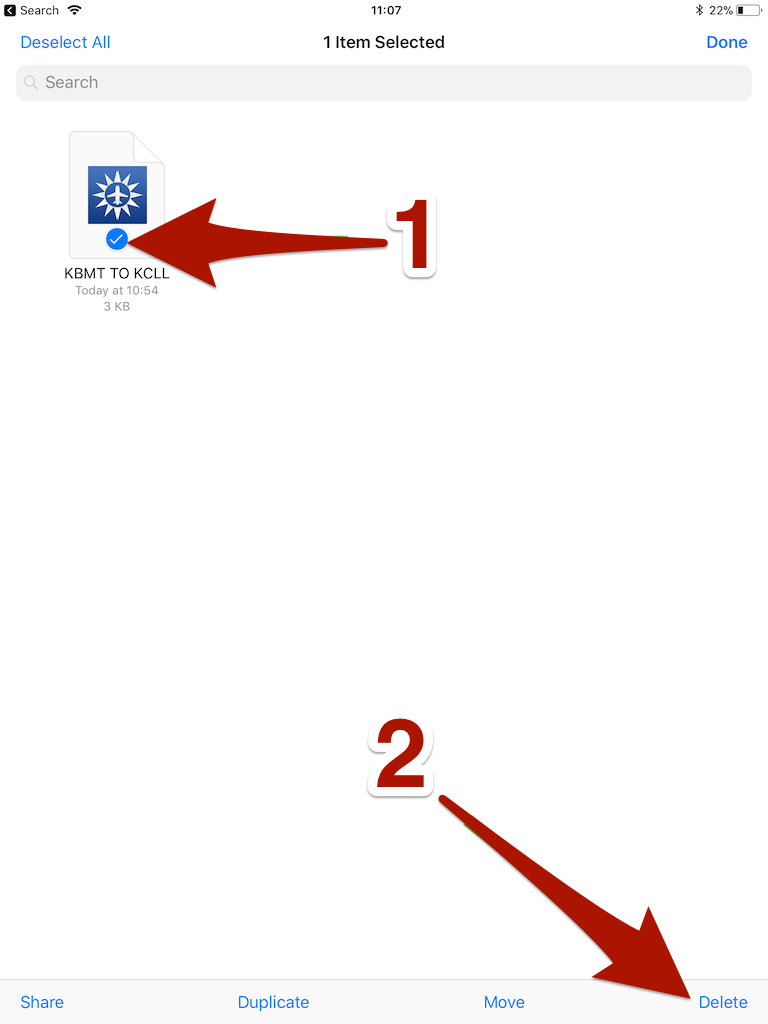 Tap SELECT and tap unneeded FPL files. Tap DELETE
Was this article helpful?