To display accurate Traffic Pattern Altitude (TPA), ForeFlight looks at a variety of sources depending on an airport's location.
For US airports, ForeFlight first checks for specific published TPAs in the FAA's eNASR database. It then checks the Jeppesen database. If specific TPAs are not available, ForeFlight applies the following standard TPA rules as published in the FAA's AIM 4-3-3:
1,000 feet above ground level (AGL) for Propeller−driven aircraft.
Large and turbine−powered aircraft enter the traffic pattern at an altitude of not less than 1,500 feet AGL or 500 feet above the established pattern altitude.
Helicopters operating in the traffic pattern may fly a pattern similar to the fixed−wing aircraft
pattern, but at a lower altitude (500 AGL) and closer to the runway. This pattern may be on the opposite side of the runway from fixed−wing traffic when airspeed requires or for practice power−off landings (autorotation) and if local policy permits. Landings not to the runway must avoid the flow of fixed-wing traffic.
For non-US airports, ForeFlight first checks the Jeppesen database. If there is no information in the Jeppesen database, and the airport is Canadian, ForeFlight applies standard TPAs as published in Transport Canada's AIM RAC 4.5.2 Note 1.
NOTE: When standard rules are applied from either AIM 4-3-3 or AIM RAC 4.5.2, ForeFlight appends the altitude with "(est.)" as depicted in the screenshot below.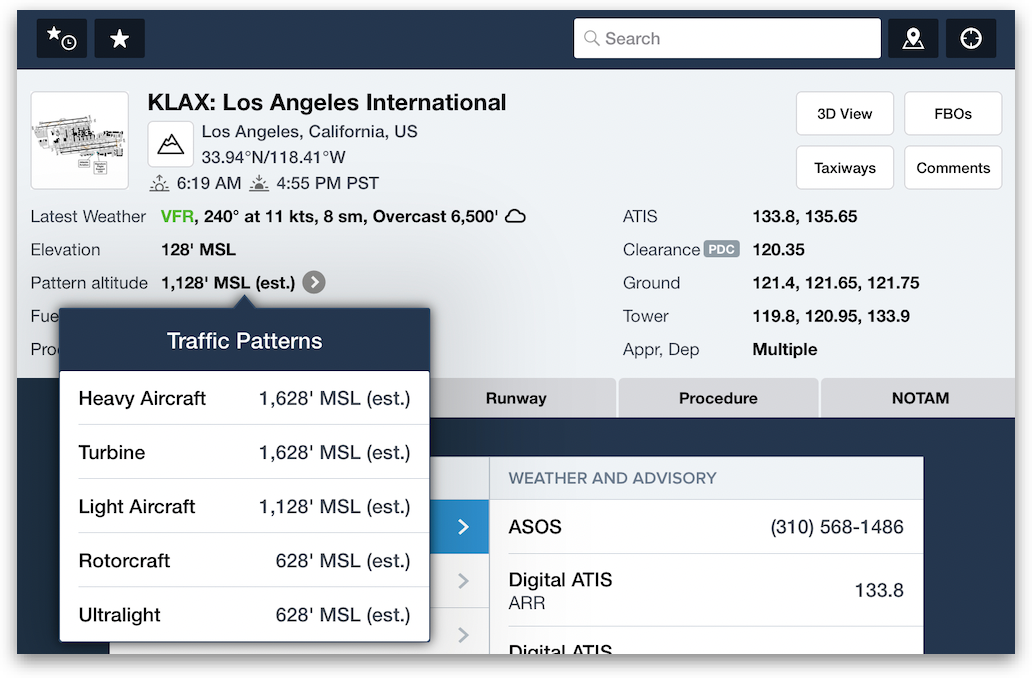 Was this article helpful?